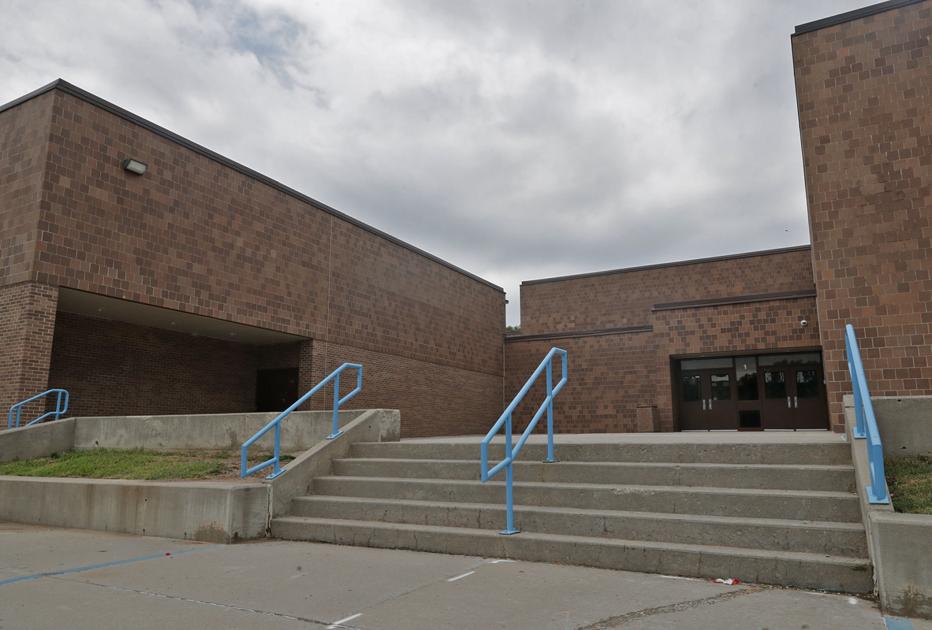 Plans are beginning to take shape for long-awaited renovations at Kirn and Wilson Middle Schools.
However, the projects won't move forward unless a bond issue is approved by Council Bluffs Community School District voters in a special election on Sept. 11.
The district's board of education voted to call for the bond election during its meeting Tuesday after volunteers presented petitions bearing 332 signatures — well in excess of the 265 needed to prompt a voter referendum.
The school district's elementary and high schools have all undergone renovations while the middle schools waited for their turn. Kirn has not been renovated since at least the early 1990s, while Wilson had a major expansion and remodeling project in the late 1990s completed in 1999. It was funded by a $14 million bond issue approved by voters in the district's last bond election in 1996. The funds were shared with Franklin Elementary, which underwent a $3.5 million renovation.
"Both of the buildings, when they're renovated, will be designed to hold 1,100 students," said Diane Ostrowski, the district's chief communications officer.
During the 2017-18 school year, enrollment was 942 at Wilson and 1,042 at Kirn.
The middle school projects, if approved, would focus on four main goals, according to district officials:
Improve security and safety
Improve accessibility
Improve building systems and energy efficiency
Improve learning environment
Safety vestibules would be installed at both schools to better control who enters, and offices would be positioned so staff members could see anyone at the doors. Multiple layers of security would be created inside the buildings, and barricades would be installed to block entry to educational areas while sports and arts venues are open for public events.
Kirn's main entrance would be moved east, to where a recessed set of double doors is currently located, to improve accessibility, Ostrowski said. The change would reduce the number of steps and the distance on the ramp to the main entrance. There is already a crosswalk to that stairway.
Heating, ventilation and air conditioning systems at both buildings are near the end of their lifespans, she said. They have become inefficient and hard to find parts for. Plumbing systems would be upgraded. Restrooms would be completely remodeled, and new fixtures would be installed. Where needed, they would be made more accessible. Electrical systems would be upgraded for technology and charging stations.
Not everything would be redone. Some areas do not need remodeling and would be left virtually untouched, Ostrowski said.
"Both schools have LED lighting throughout, so those will remain," she said.
Windows and doors would be replaced where needed to improve energy efficiency. Some new furnishings would be purchased.
The buildings would be converted from a junior high departmental model to a middle school learning team model. Each grade level would have its own area, although some larger areas would be shared. Classroom areas would be remodeled to enlarge small classrooms and group rooms according to grade level and team.
Small additions would be built at both facilities for kitchen and delivery areas. Kirn would be expanded with a two-story addition with more classrooms.
Both middle schools have two gyms and an auditorium, but Wilson's auditorium does not have an elevated stage with space for backdrops. One option under consideration is converting one of the gyms into a multi-use space with pull-out seating.
Work at Kirn would begin in summer 2019 and wrap up in 2020, and Wilson would undergo renovation from 2020 to 2021. While each building was being done, students would attend classes in the former Target building at Mall of the Bluffs. About $5 million of the $37 million bond issue would be used to purchase and renovate that facility — contingent on the passage of the bond issue.
School officials believe moving students off-site during the work would provide a learning environment with fewer distractions and disruptions and reduce delays and construction costs, Ostrowski said.
"There is a direct correlation between length of time … and the cost," she said.
Source: https://www.nonpareilonline.com/news/education/middle-school-projects-begin-to-take-shape/article_d0b0e763-04d3-5eb3-995d-12dc6329c12d.html