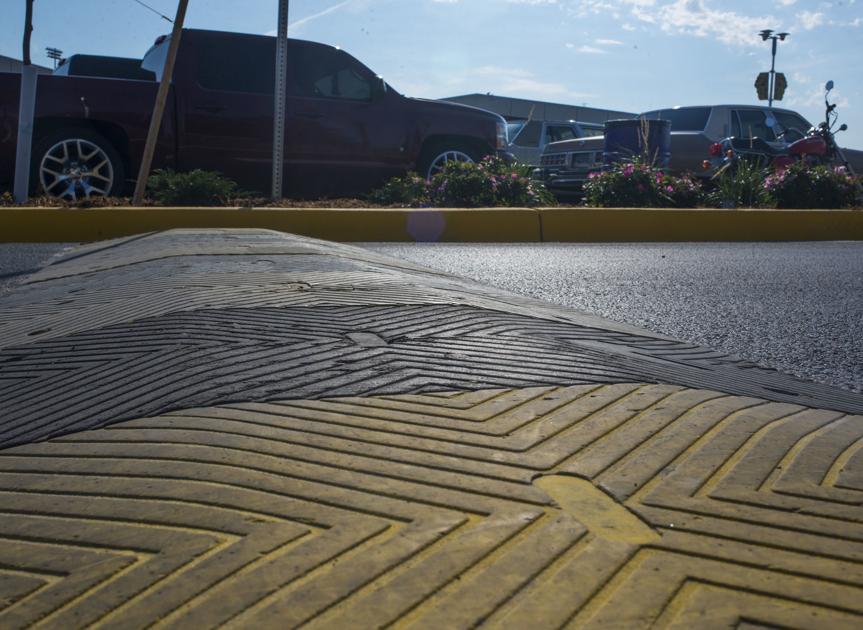 Out of the more than $5.7 million the Campbell County School District and state of Wyoming have spent on renovations and major projects in Gillette and Wright over the summer, there is still one last project to complete.
It includes the speed bumps in front of Campbell County High School.
The "Camel Humps" were put back into place Thursday morning. The nickname was given by Dennis Holmes, the district's associate superintendent for instructional support.
He told school trustees that the two speed bumps to slow traffic would be reinstalled for motorists to negotiate as they have had to do in the past year.
The speed bumps were removed as part of the $547,500 project by Simon Contractors to repair and improve the west parking lot at CCHS. But it was just a temporary move on a shortcut many drivers — not just students — use between 12th Street and Camel Drive.
The parking lot improvements include planters and trees.
Holmes said there are a few things that have yet to be completed, including curbs at the base of Camel Drive where it meets the parking lot.
After praising the work done to improve the aesthetics with the parking lot and work to renovate the media box ($878,254 by Van Ewing Construction) and improve Camels Stadium, one trustee couldn't resist asking about the "Camel Humps."
"What a great job of landscaping," chairwoman Anne Ochs said later during board celebrations. "It's very inviting to go into the school now."
Holmes also gave the trustees an update on all the capital projects that took place in the school district this summer:
Sunflower Elementary School: Roof replacement and skylights, $796,662 by Inman Roofing Inc. "The roof is nearly done," Holmes said. Hladky Construction also was awarded $652,435 to renovate Sunflower's kitchen and install new doors and windows. The total is about $1.4 million.
Twin Spruce Junior High: New STEM lab ($178,528) is complete, as is most of phase II of science classrooms and FACS renovations by Norton Construction, a project of about $1.8 million; and a kitchen remodel by Hladky Construction for $218,775. Overall, the projects cost about $2.2 million.
Sage Valley Junior High: The new STEM lab is complete at a cost of $167,647, some stucco repair has taken place and Hladky Construction crews are completing work on the third set of concrete steps by the planetarium entrance, a $114,581 project. The total cost of the two projects is $282,228.
Conestoga Elementary School: Hladky Construction has completed a ceiling replacement project at a cost of $140,350, and Wyoming Roofing LLC replaced skylights at a cost of $73,705 for a total cost of $214,055.
Rozet Elementary: The roof project which was awarded last year was completed this summer. The school also received new doors, windows and hardware from Hladky Construction at a cost of $126,300.
Meadowlark Elementary School: Hladky Construction provided exterior doors at a cost of $69,616.
Lakeway Learning Center: Hladky Construction also replaced exterior doors at a cost of $126,300.
Source: https://www.gillettenewsrecord.com/news/local/article_b494be81-dcff-52a1-aeb2-e62efa038660.html