Plaudits for Sun Design Remodeling! Last month, the full-service design/build remodeler won eleven "Contractor of the Year" (COTY) awards from the National Association of the Remodeling Industry.
Since two of the winning categories– "residential exteriors" and "outdoor living"– are among the most frequently-undertaken areas of home improvement, remodeler competition to be seen as "the best" in these arenas is particularly intense.
As Craig Durosko, chairman and founder of Sun Design Remodeling, observes:
"Northern Virginians like their green backyards and temperate climate, so developing ways to connect the house with what's just outside your door is a continual homeowner passion."
The two prizes are also an indicator of Fairfax County's diverse requirements, and the evolving range of Sun Design's problem-solving capabilities.
A closer look at the two top-of-category winners reveals much about prevailing trends.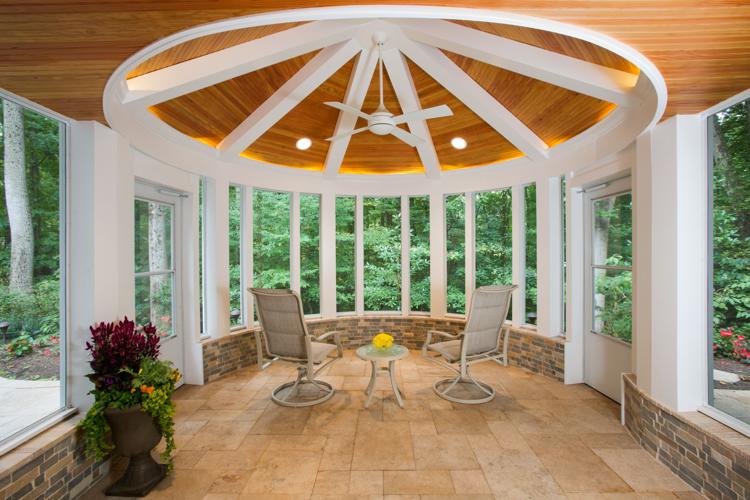 Best Residential Exterior Under $100,000. A circular screened porch with a carefully-crafted conical roof has garnered a "Contractor of the Year" award for Sun Design Remodeling. The exterior component was meticulously integrated into an existing flagstone patio. Owners Jack and Ann Picco, who have occupied the home for over 30 years, were looking to improve their outdoor entertainment horizons.
PHOTO BY GREG HADLEY
A circular screened porch tailored to narrow existing footprint
A screened-porch pavilion that is custom-designed for the Annandale home of Jack and Ann Picco perfectly integrates the rear elevation of a 40-year-old house with an existing stone patio that overlooks a wooded set-aside.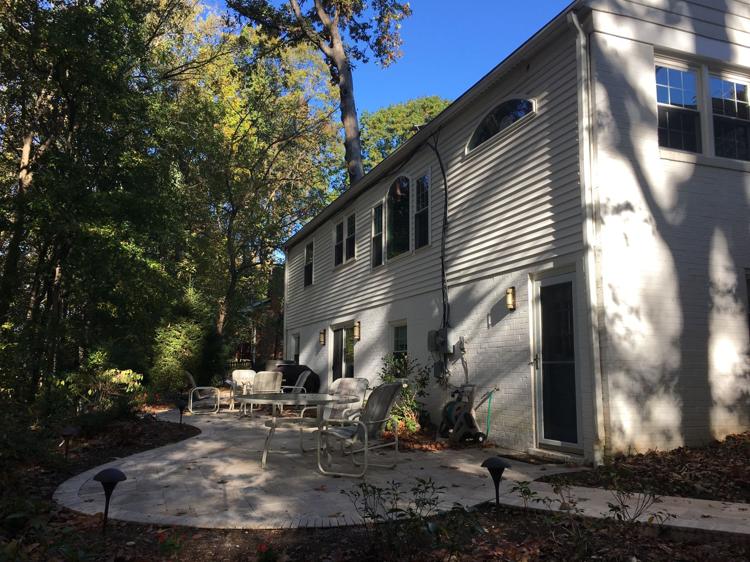 Before: An existing stone patio– which backs into a wooded set-aside– was a key factor driving the size and design of new porch. To stabilize the new construction, Sun Design developed an innovative and uniquely cost-effective engineering solution.
PHOTO COURTESY SUN DESIGN REMODELING
The addition's crisp architecture sets the tone for a plan that boasts garden walks, a comfortable nature observatory and an enlarged apron for outdoor cooking. A hyphen links the circular pavilion to the lower level family room– a favored indoor entertainment spot equipped with a bar and kitchen amenities.
"We wanted to expand our entertainment horizons", says Picco, a retired engineer. "We were looking for better options to host friends, children and grandchildren. This is a perfect plan for us."
A key to the winning design ("Best residential exterior under $100,000") is a conservatory-style conical roof that lends an expansive upward thrust to sightlines extending in every direction.
The circular design follows the outline of the curvilinear patio, which was partially disassembled– then re-constructed– to incorporate the footprint of the new porch.
With its 12-foot ceiling and knee wall that is constructed of natural stone, the porch is zoned for dining, conversation, bird-watching and the pleasures of just sitting outdoors with a good book—even in a light rain.
The ceiling– which features tongue-and-groove beadboard and rope lighting–.is fitted with a rotating fan. All columns and posts have been wrapped in PVC to reduce maintenance. Weep holes allow moisture to drain out.
To stabilize the new "built" component, Sun Design installed a foundation system comprised of submerged piers linked by a pressure treated wall– a plan that proved considerably less expensive than deploying concrete footers.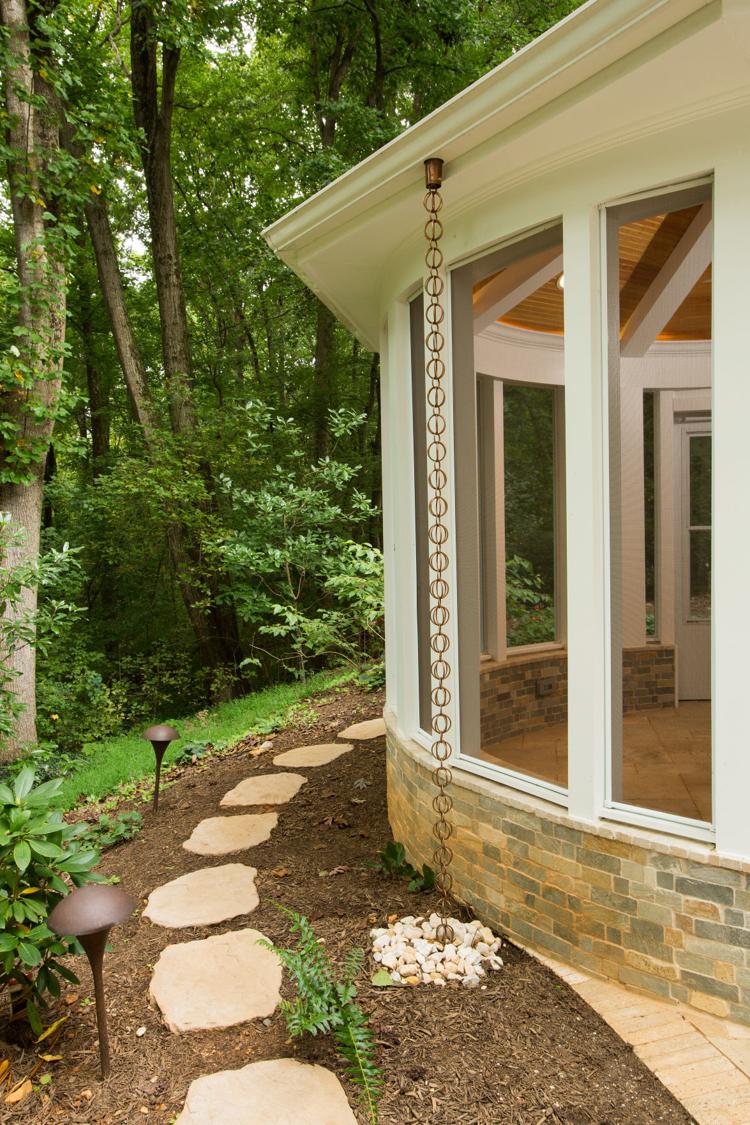 PHOTO BY GREG HADLEY
To conduct rain water, Sun Design specified a "rain chain", a Japanese alternative to a traditional downspout, which Picco (who has lived in Japan) describes as "a real pleasure to watch,"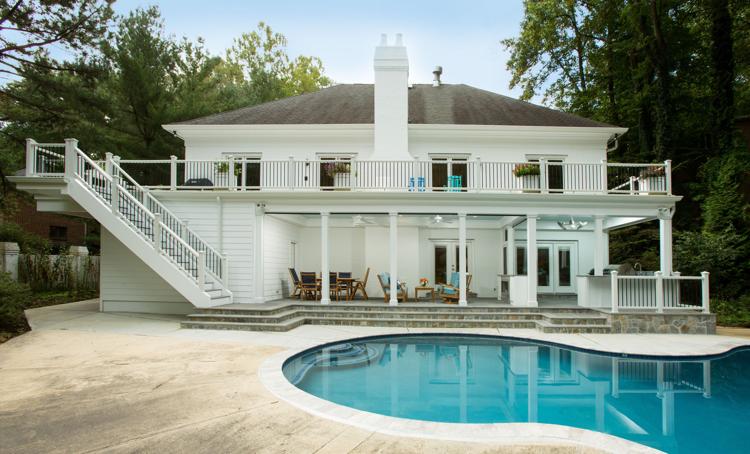 Best Outdoor Living Solution A two-level rear elevation design that sharply improves the indoor/outdoor continuum between a 45 year old McLean residence and an existing pool has won a regional "Contractor of the Year" (COTY) Grand award for Sun Design Remodeling Specialists. The project was named best "Outdoor Living Solution" in eleven southern states by the National Association of the Remodeling Industry (NARI).
PHOTO BY GREG HADLEY
Two-tier design reconciles rear elevation with pool
The recent remodeling to the home of Andy and Diane McColl combines dexterous architecture with radically improved functionality. Named a "Best Outdoor Living Solution" COTY-winner, the plan strengthens the relationship between a circa 1970s brick-facing house and a pool that was added a few years later. The makeover replaces a rear sun room, which had fallen into disrepair. The new porch and balcony span over 900 square feet at each level– the entire rear elevation of the 45-year-old home.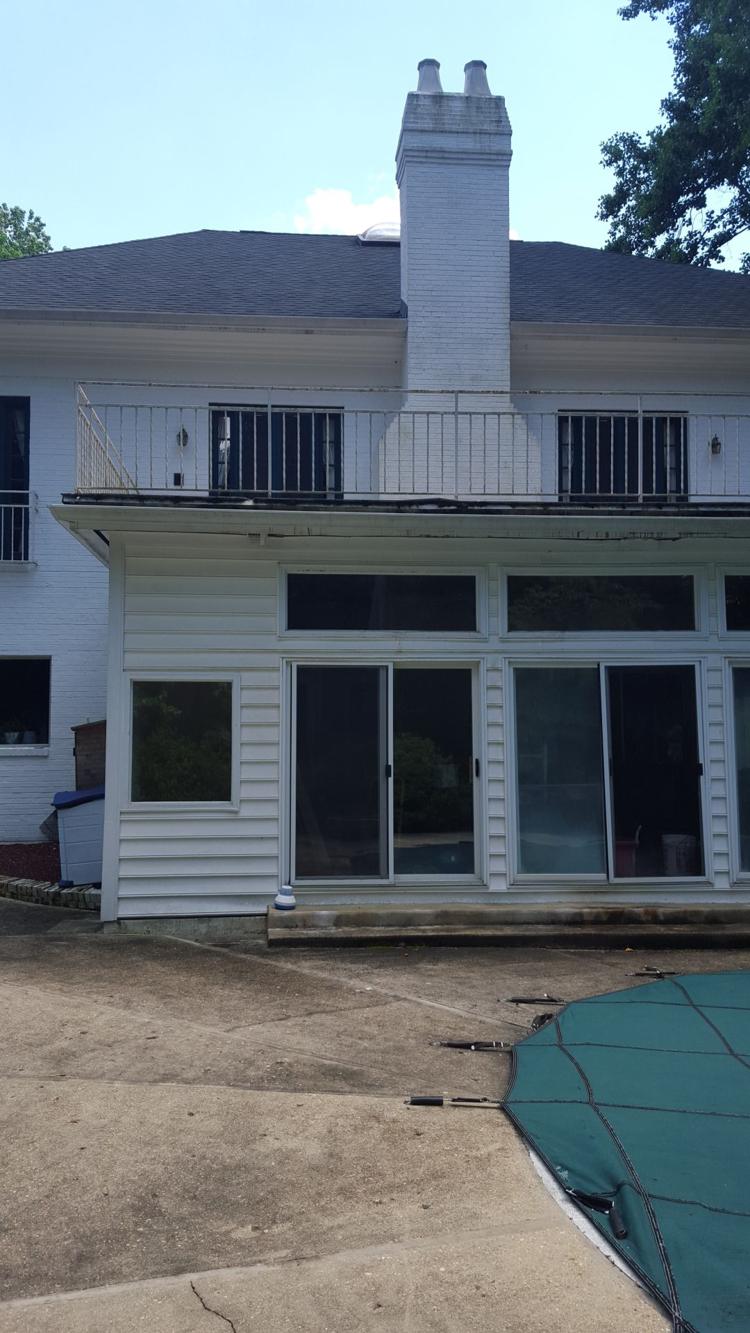 Before: The old sun room had fallen into disrepair.
PHOTO COURTESY SUN DESIGN REMODELING
"We wanted an indoor/outdoor space that would satisfy our warm-weather entertainment requirements," says Andy McColl,
In the end, the plan responds to McColl's enthusiasms on every point:
• At ground level, a grilling area abuts a spacious dining and lounging zone, which is next to an enclosed space designed for storage
• There's a 13-by-14 outdoor kitchen built on a flagstone patio. The kitchen includes a Primo Oval ceramic grill, a wolf outdoor grill with side burner and a subzero refrigerator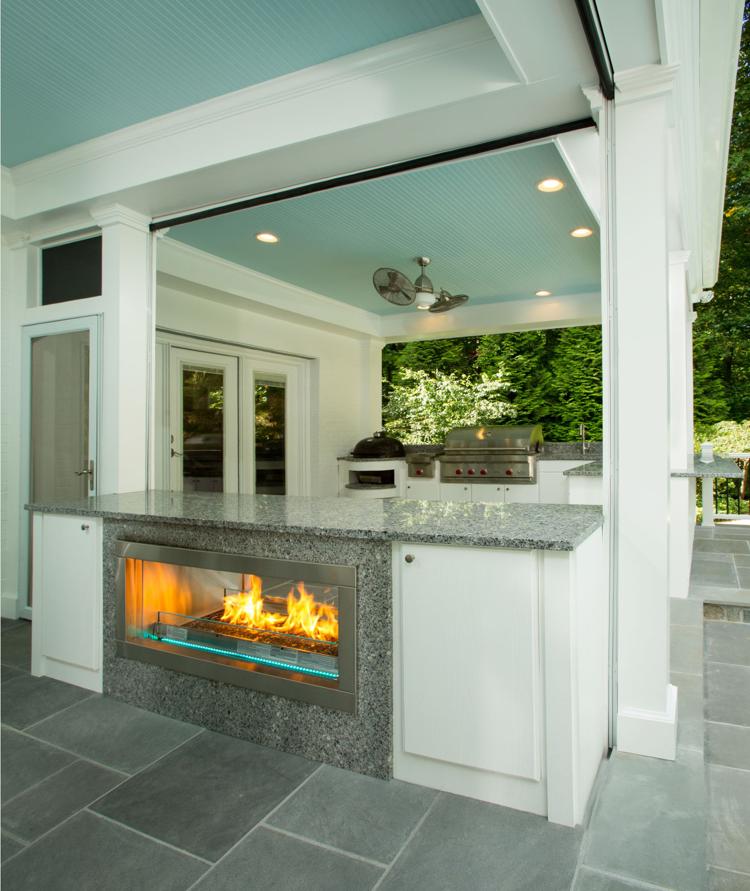 John Benedetto designed the counter/serving station between the outdoor kitchen and the dining area. The surface is Azul Platino granite. The double-sided Galaxy See-Thru fireplace features a glass wind-deflector to ensure operation in windy conditions; a safety valve turns the gas off if the flame goes out.
PHOTO BY GREG HADLEY
• An island featuring a see-through fireplace provides a serving station between the kitchen and the 350 square foot dining porch. There's also a four-stool dining counter on the pool-side of the patio– steps away from the pool
• On the patio's eastern corner, Sun Design built a 200 square foot room for storing pool furniture and related outdoor-use equipment. The storage room is accessible from the front elevation, via doors next to the garage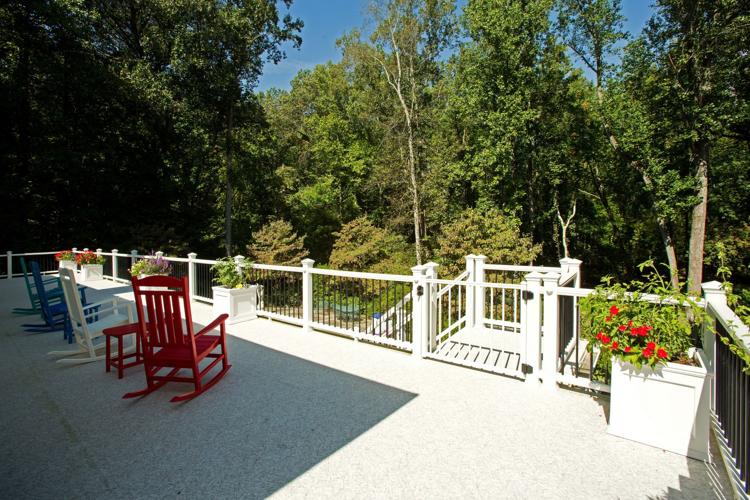 Tufdek vinyl has been thermally-welded to existing flooring to a assure a watertight rooftop deck. The rails conceals both lights and sprinkler system used to water plants.
PHOTO BY GREG HADLEY
• A 66-by-14 foot open-air deck above the patio provides a panoramic view of surrounding woodland as well as an optimal spot for reading, sunbathing or just sitting quietly. The deck is directly accessed from the living room and the master bedroom
To enhance visual continuum, the contractor specified glass doors with narrow frames. The deck is surfaced with watertight Tufdek vinyl flooring.
Sun Design Remodeling frequently sponsors design and remodeling seminars as well as tours of recently remodeled homes. Headquartered in Burke, Sun Design also maintains an office in McLean, VA. FOR INFORMATION visit http://www.Sun DesignInc.com, or call 703-425-5588
John Byrd has been writing about home improvement for 30 years. He can be reached @ 703-715-8006, www.HomeFrontsNews.com or byrdmatx@gmail.com. Send photos of interesting remodeling projects to: b2b@homefrontsnews.com
Source: http://www.fairfaxtimes.com/articles/a-circular-porch-a-tiered-deck-down-to-pool/article_3b736994-9c09-11e8-8b70-5fa7eabc0781.html