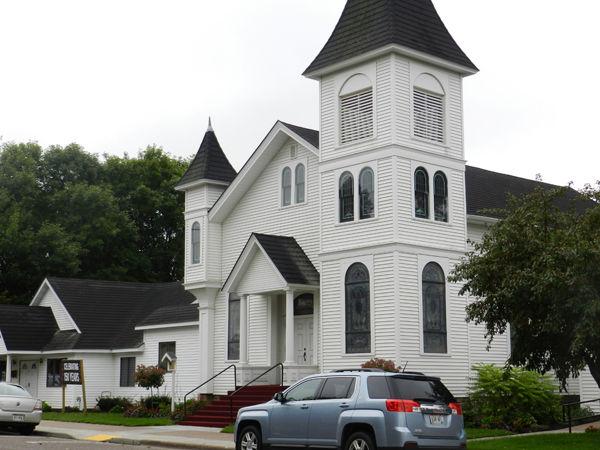 Continuing efforts to underscore the significance of their church's 150th anniversary, members of First Congregational United Church of Christ at 1324 15th Avenue in Bloomer are tasking through numerous building and property improvements, updates, and maintenance.
"We gave her a good Saturday Night bath," reports Jerry Bangle, Chair of the church's Trustees Committee, "with a strong high-pressure building wash. It sure restored the white exterior gleam of our traditional congregational church."
Numerous interior refurbishments also have been accomplished including a kitchen remodeling with new counter tops, restored cabinetry, updated plumbing, and efficient lighting in the fellowship hall as well.
(Picture of church front in this area)
While all this is being accomplished other committees compiled, documented, and are publishing an extensive church history. To insure a broad understanding of how the church was established and grew through its one-and-one-half century existence, this historical publication will be presented to church members, friends of the church, and visitors attending the anniversary worship service on Sunday, Sept. 23.
The First Congregational Church of Bloomer'—also known at that time as the First Congregational Society—dates back to 1868 when it was organized in the Public Hall of what was then Vanville of Chippewa County, Wisconsin. Its history actually begins sometime prior when a small group of Protestant worshippers repeatedly gathered to be led in Christian prayers by visiting circuit riders who roamed the countryside preaching God's message.
Having acquired property through generous gifts, in 1871 the congregation undertook the construction of a church building to be sited at its present location. Worshipping therein, the congregation purchased its first church organ in 1896; apparently a good buy, it was played and not replaced until 1993.
Until the early 1900s this church building faced westward, toward what is now Willis Park and Duncan Creek. In 1905, amidst some remodeling work and some additional construction, it was decided to rotate the church building to face north, fronting on what was to become 15th Avenue, in keeping with city development. Integrated in this effort was the construction of a new front entryway and bell tower.
Although this church's history dates from the mid-1800s, the history of Congregationalism or similar forms of worship precedes that by centuries. While the name United Church of Christ may be at times unfamiliar, it is known to have links back to the historical period of the Mayflower, Plymouth Rock, and the early colonies of New England. Many of the New England colonies contained Congregational churches, some as early as the 1600s. More than 600 of the over 5,700 UCC congregations were founded before 1776.
This early history stems from Congregational churches in England that did not approve of the worshipping procedures used in the Protestant Church of England. To seek religious freedom from this, many Congregationalists fled England to Holland. Finding, as their children matured, their predominant language became Dutch. This was unacceptable and they re-migrated back to England seeking transport to the "new world" where they believed freedom of worship existed. Establishing themselves in what was to become New England the Congregationalists soon began movement westward. Two hundred years later their churches were appearing in the Midwest and other areas of the United States.
Even though the First Congregational Church of Bloomer is now celebrating its 150th anniversary, there arise occasional questions of how it is part of the United Church of Christ, or UCC. As frequently occurs with church groups having a smaller number of congregations, mergers with other similar groups gains strength in numbers and improved operating efficiency. In 1931 Congregational churches merged with the Christian Church in America which also had roots in England. At this same time, two German church groups also seeking religious freedom, moved to this country and merged in 1934 to become the Evangelical and Reformed Church in America. Pursuing still further efficiency, in 1957 these two merged groups—or actually four churches—combined to become the United Church of Christ. One of the major strengths of the UCC churches is their self-governing, independent operation as they worship Jesus Christ as Lord and Savior. This, of course, is consistent with their seeking religious freedom since and well before the 1600s.
The First Congregational church of Bloomer has for 150 years stood, and continues to stand, as a strong symbol of religious freedom. Its clean, white traditional church building gleams brightly on 15th Avenue and offers an open door to all worshippers. Having been led by 41 pastors through its 150 years, Bloomer's First Congregational continues to support many mission projects, and missionaries as well, in the United States and worldwide. Through voluntary participation by individual members and by financial contributions, the church also supports numerous local organizations, neighbors, friends and activities.
(Picture of church-identification sign in this area)
Amidst its landscaped area stands the brilliant street-side church identification sign, serving as a silent clarion, guiding and welcoming members and visitors alike to the weekly worship services, the standing motto of which is "all are welcome."
Being held in its church sanctuary, the First Congregational Sesquicentennial Worship service will begin at 10 a.m. on Sunday, Sept. 23.
Source: https://www.bloomeradvance.com/news/community_news/article_6c1053ca-b859-11e8-9235-9f8a04ae69e8.html