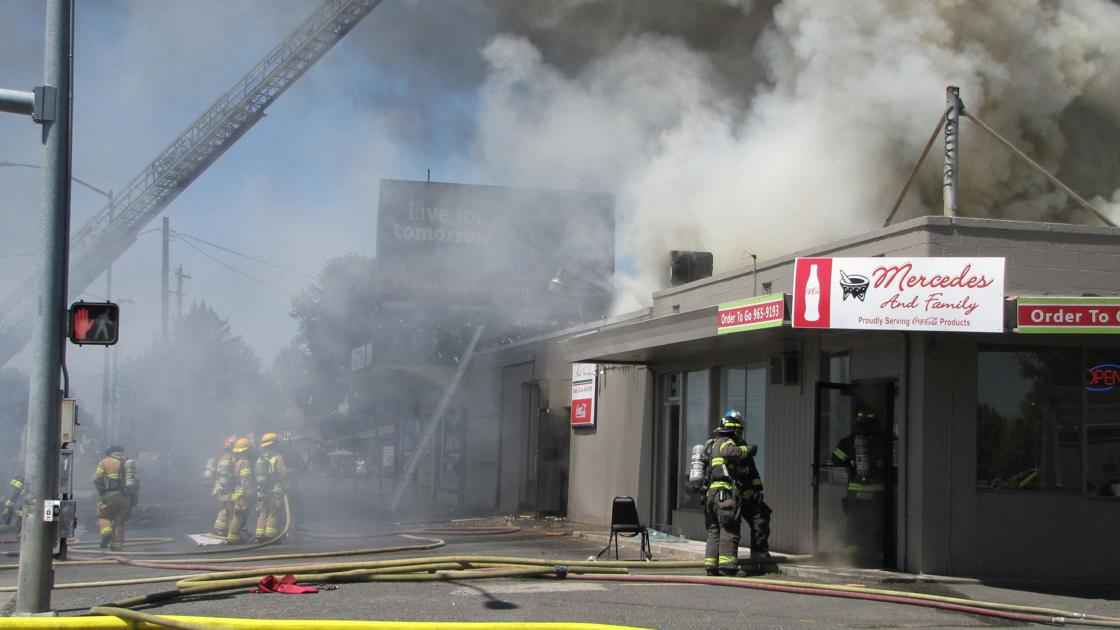 Fall is here. And as with any new season, it seems to be one of change for the local retail and restaurant business.
Judging by the packed parking lots, many local diners were eager to see the return of a popular Mexican restaurant that had to close due to a fire two months ago.
Mercedes & Family has reopened at a new location in Yakima, 2201-A W. Lincoln Ave. The restaurant was forced to close in July due to a kitchen fire at its previous location at South 56th Avenue and Tieton Drive.
The quiet did not last long. Once word of the restaurant's reopening got out, the crowds started coming. "And it hasn't stopped," said Erik Gomez, son of owner Mercedes Guzman.
Gomez said that he and his mother are still getting used to working in a new kitchen but are glad to be back after the hiatus.
"It's been a blessing," he said.
The restaurant's hours are 10 a.m. to 9 p.m. Sunday through Friday and 12:30 p.m. to 9 p.m. Saturday.
Before Mercedes & Family, several restaurants had been at the building on West Lincoln Avenue. Sharky's Pizza Shack closed in 2017 after five years, and Anita's Restaurant was there for a few months before closing a few weeks ago.
A new Mexican restaurant will open in the space formerly occupied by Peking Palace, which closed recently. Mi Lindo Nayarit 2 is expected to open at 610 N. First St. in Yakima during the first or second week of next month, said Octavio Martinez, the restaurant's general manager. The restaurant specializes in seafood.
The Yakima location of the restaurant, which first opened in Pasco 13 years ago, is a relocation from Sunnyside.
Martinez said the ability to buy the building was the major factor in relocating to Yakima.
"It looked good to bring our business here," Martinez said.
I wrote a few months ago about the emergence of local retail outlets operating out of trailers around the Yakima Valley. If you haven't tried the concept, here's your chance: Several mobile clothing stores will be at a Fashion Truck Rally from noon to 4 p.m. Saturday at Bearded Monkey Cycling and Fitness, 1802 W. Nob Hill Blvd. in Yakima.
Retailers involved include Sage & Rose, which I profiled in a previous Current column; Rock Rose Boutique, which once ran a brick-and-mortar store at Chalet Place but is now running a mobile operation; and The Rose Mobile B.
The rally will give local shoppers an opportunity to try out different styles of clothing, said Angelica Johnson, owner of The Rose Mobile B.
"We're a bouquet of roses," she said. "I think our genres and our target markets are different."
The Valley Mall will see the arrival of several new tenants in the coming months. Cinnabon, a mall staple, will open early next month. That will be followed by the opening of Concept, a women's clothing and accessories store, in mid-October.
Marshalls, an off-price department store, is now looking at a spring opening after finishing its remodel of the former Value Village building, said Bryan Kozu, the mall's marketing manager.
There will also be a new tenant in a space currently occupied by Chico's, which will be closing in the next few weeks. Kozu said he wasn't ready to reveal the new tenant. Chico's, a popular women's clothing store, decided not to renew its lease, Kozu said.
Another tenant, Songs of Praise, will also close at the end of this month.
Source: https://www.yakimaherald.com/news/business/local/the-current-change-is-in-the-air-for-yakima-restaurants/article_d52c1e34-bd63-11e8-87a7-5777d294ed7c.html