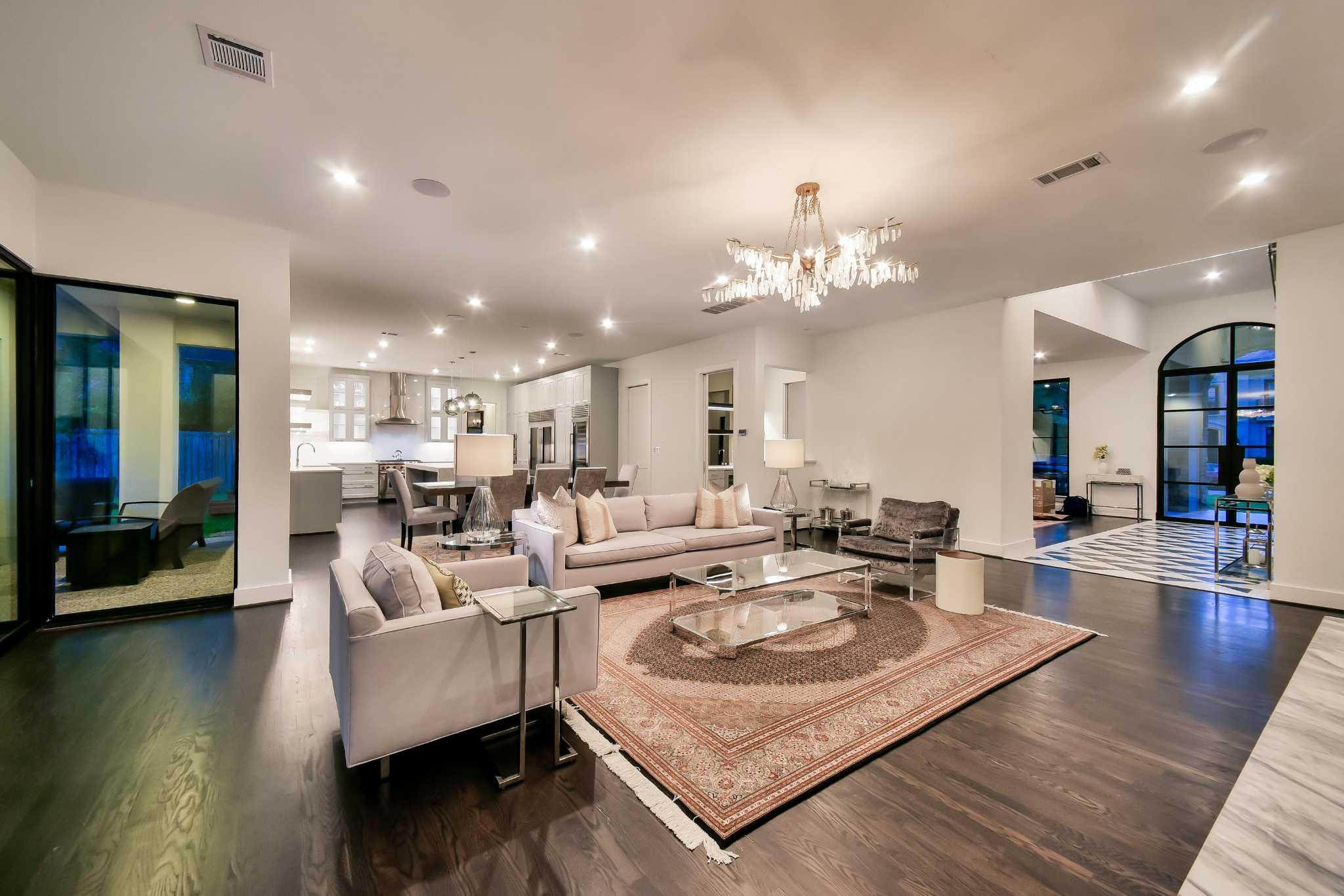 Jennifer and Farzad Askari didnā€™t want to build a new home, but by the time they finished remodeling one they bought in Tanglewood, they might as well have because they went through nearly every phase of new-home construction.
The couple, who both work as oil traders, already lived in Tanglewood, but it was Farzadā€™s dream to live off of Tanglewood Drive. They found a 1990s Mediterranean-style home and decided it was exactly where they wanted to live, even if it didnā€™t come close to matching the more contemporary vision they had.
So after a year of working with their interior designer, Lucinda Loya Interiors, their architect, Javier Medina of Origin Architects, plus a builder and engineering firm, LBM Construction and BEC Engineering and Consultants, the Askaris moved into a dramatically different space than what they saw the first time they looked at it.
Gone are the arched doorways, numerous hallways, awkward entrances and a nearly hidden staircase. Closets are bigger and better arranged, and a new backyard pool and new landscaping make the exterior a different place to play.
MA+DS Home Tour
What: A tour of nine modern homes in Houston
When: 11 a.m.-5 p.m. Saturday, Sept. 22
Where: 2212 Colquitt (studioMET); 6001 Charlotte (Builders West); 1214 W. Drew (MASA Studio Architects); 5336 McCulloch (refuGe Design Studio and Carnegie Homes); 5138 Glenmeadow (On Point Custom Homes); 5003 Glenmeadow (Hollenbeck Architects); 5519 Lynbrook (Origin Architects); 1306 Rosedale (Intexure Architects); and 4223 Whitman (Design DCA)
Tickets: $40 in advance, $50 on tour day; mads.media/2018houstonmht/
This modern makeover is one of nine homes that will be on the Sept. 22 Modern Architecture + Design Society Home Tour, an annual event that opens a handful of homes to people who are fans of modern design. In addition to Medinaā€™s Origin Architects, other firms whose work is included on the tour are studioMET, Builders West, MASA Studio Architects, refuGe Design Studio and Carnegie Homes, On Point Custom Homes, Hollenbeck Architects, Origin Architects, Intexure Architects and Design DCA.
And the homes are scattered throughout Houston, in Tanglewood, Colquitt Court, Montrose, Southampton, Lamar Terrace, Meyerland, Museum Park and Lynn Park.
ā€œWhen I first started talking about the project, I was using the term ā€˜transitional,ā€™ and the term just turned into ā€˜modern,ā€™ā€ Jennifer Askari said. ā€œI left it to the team to take the ideas to the next level because I just donā€™t think like that. But once everything was finally up, and we were able to see it ā€" and now finally living in it ā€" we have redefined what modern is to us. Even though itā€™s a modern house, itā€™s very livable, very functional, very homey and, most importantly, clean lines.ā€
Even if most of new-home construction in Houston remains traditional, people of all ages are embracing a more contemporary ā€" if not completely modern ā€" look with less ornate detailing, less crown moulding and fewer arched doorways.
Medina called this home the ā€œmost adventurousā€ project heā€™s worked on in the five-and-a-half years heā€™s operated his architecture firm. Though the bulk of his work remains traditional architecture, more clients are asking for more contemporary designs.
ā€œI had this modern energy bottled up until recently. Now we have a nice mix of traditional, contemporary and transitional work,ā€ Medina said. ā€œYounger people are more receptive to modern design but, ironically, people who grew up with the midcentury aesthetic want that back and are gravitating to modern style.ā€
The Askaris, who have a 3-year-old daughter, are one of those families who started out not wanting a traditional home but not quite envisioning what modern could mean to them.
ā€œIf you had asked me five years ago if I wanted to live in a modern home, I would have said no, thereā€™s no way,ā€ Jennifer said. ā€œThe concept of modern has changed over time. Coming into this project, I was adamant that I always want to feel comfortable in my home. I want to be able to go to my home and feel relaxed and not just stiff sitting there.ā€
With the quantity of work at the Askarisā€™ 6,000-square-foot, six-bedroom home ā€" they didnā€™t change the homeā€™s footprint, but they revamped nearly all of its floor plan ā€" many people might have simply waited for a home with a better fit to come on the market.
But Jennifer said that their choice was driven by location. Farzad has wanted to live off the beautiful Tanglewood Drive ā€" its wide boulevard and canopy of live oaks rival the natural beauty of Broadacres ā€" for years.
The house had the arched windows youā€™d expect to see in a Mediterranean-style home, plus itā€™s stucco and stone exterior was awash in earthtones. The stone is still there, but new rectangular steel windows and white stucco modernize the look.
Removing walls and hallways wasnā€™t just about completely reframing the homeā€™s interior; it took a fair amount of structural engineering by BEC Engineering and Consultants for safety issues and to strengthen newly wide-open spans.
In the foyer, a geometric black-and-white marble design amid dark wood flooring and a contemporary staircase with a thick glass side make it hard to believe the space once looked very plain. Originally, the staircase wasnā€™t even inside the front door ā€" you had to access it from a hard-to-find bedroom wing on the side of the home.
Another hallway that ran along the family room, breakfast area and kitchen was removed to create a bigger open space. They also created a small bar between the great room and the dining room, which earlier didnā€™t have direct access from the kitchen.
Perhaps the biggest transformation is the kitchen. Formerly a traditional space with wood-stained cabinets, tan granite counters and a mosaic tile backsplash, the space now sparkles with white Silestone counters, Carrara marble backsplash and, on one wall, contilevered open shelves that hold gleaming white dishes.
An under-the-stairs powder bathroom that once had pink wallpaper and a white porcelain pedestal sink has morphed into the sexiest half-bathroom in the city, wrapped in wallpaper that looks like gorgeous natural stone and chunky modern plumbing fixtures.
Every bathroom got a makeover, with a first-floor guest Jack-and-Jill that had only a walk-in shower gaining a bathtub. The master suite grew when they eliminated hallway space from the original staircase. Now, Jennifer and Farzad each have their own, and the bathroom is a combination of stone tile and glass. Thereā€™s a hexagonal pattern on the floor and herringbone style on a feature wall backing the glass steam shower and freestanding bathtub.
diane.cowen@chron.com
Source: https://www.houstonchronicle.com/life/home/design/article/Tanglewood-entry-on-MA-DS-Home-Tour-shows-13227549.php