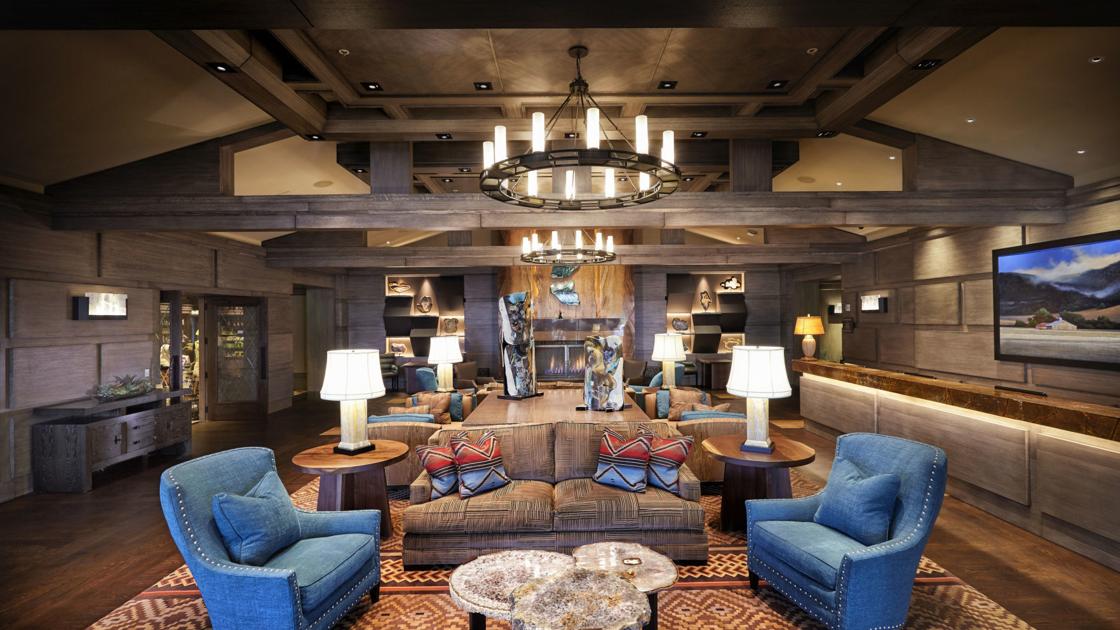 Sky-blue and turquoise colors accent a landscape of warm wood and stone. The room is held by a hand-looped wool carpet with geometric patterns that conjure up indigenous weavings. Cross sections of minerals and rocks  bring nature indoors, while original ceramics, paintings and fixtures evoke the Colorado Plateau. Seating is generous and made of beautiful textiles with a soft touch.
Welcome to the guest reception area of the newly refurbished Little America Hotel in Flagstaff.
After two and half years of work, Little America announced this month the completion of a property-wide renovation that has redefined its interior space. Guest rooms, the Silver Pine Restaurant & Bar, the lobby, gift shop, halls, meeting rooms and ballrooms have been all updated. Gone is the French Provincial furniture and accents that the hotel embraced at its founding in 1973. Everything is new, from wall and floor coverings to furniture. But more than that, everything is original, said Pam Nicholson of Frank Nicholson Inc., the Massachusetts firm that rendered the redesign.
"Everything is custom made and unique, from the chandeliers on down," she said, adding that the design firm worked from its own original drawings to bring elegance, continuity and a warm modern-western style.
Highlights include solid wood furnishings, including raw edge big-leaf maple desks and headboards. Each original piece was made especially for the hotel by Live Edge Design in western Canada.
Large slabs of chrysocolla are on display above the lobby fireplace and in the corridor leading to the restaurant. The sky-blue to blue-green stones, which are reminiscent of turquoise, came from a mine in Morenci, Arizona.
Guest rooms are well-appointed with Ulster wool carpets, luxury Anichini bed throws and down bedding. Spacious bathrooms feature Spanish tile showers, granite counters and mirrors framed in warm led lighting. And, clothing steamers, not irons, are provided in each room.
The property features work by several artists and artisans including images taken in northern Arizona by local photographer Tom Alexander. Two Raku ceramic pieces by Sedona artist Jim Romberg anchor the guest reception area.
Both Nicholson and the hotel's general manager, Fred Reese, attribute the attention to fine furnishings and quality to Little America's proprietor, the Holding family, which owns and operates Grand America Hotels and Resorts as well as Sinclair Oil Corporation. Little America Hotel in Flagstaff is one of eight properties in the Grand America network.
Nicholson, whose firm has worked on properties such as Mandarin Oriental, Ritz Carlton and Four Seasons hotels, said the furnishings, textiles and accents utilized in Little America are all of "enduring quality," and that the Holding family brings elegance and class to their hotels and resorts. "It's far beyond what their competitors would do," she said.
Reese said the Holdings were very involved in the decisions at all levels, adding that the remodel was "carefully curated" and designed  to exceed guest expectations.
Recent guest John Beadle of Olathe, Kansas, said he was "blown away" with the hotel's transformation.
"We stayed in a beautiful room. It had two balconies and was full of southwest textures and colors," he said. "We had a wonderful stay. We will be back!"
The hotel is marking its 45th anniversary this year, and Olathe said that when he was 13, he stayed at Little America with his parents. He remembers being impressed by the slimline phone in the bathroom. The hotel was brand new then, and he's been back a few times since. He said that although the updated styling is striking, what really impresses him is the attention the hotel gives to its customers and to the grounds.
"They seem to have a strong commitment to their guests and to maintaining and keeping up the property," he said.
Little America, located just off Interstate 40 at the Butler Road exit, consists of 247 guest rooms, including a few suites, 13,770 square feet of meeting space, the Silver Pine Restaurant & Bar, a heated pool and spa and numerous hiking trails. One of Little America's premier events is the North Pole Experience, a 90-minute holiday adventure it hosts starting in mid-November. The hotel's Easter, Mother's Day, Thanksgiving and Christmas Day champagne brunches, which attract hundreds of holiday guests, are local favorites.
Source: https://azdailysun.com/lifestyles/quality-endures-little-america-concludes-major-remodel-with-style/article_38f96c75-e01b-54b4-a1da-28414e483cd7.html