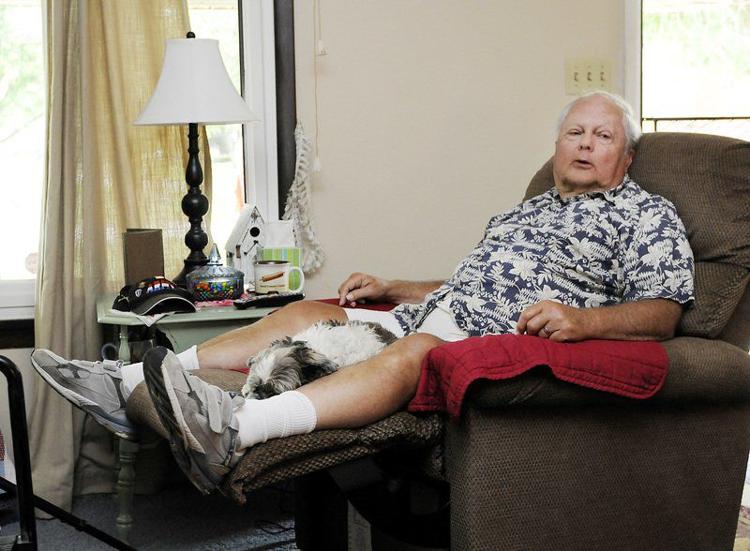 Disabled veteran Dennis Robinson can only stand for short periods of time.
Don Knight | The Herald Bulletin
ALEXANDRIA — Dennis and Brenda Robinson are living through the classic home improvement nightmare.
Dennis Robinson is a 71-year-old disabled Vietnam War veteran plagued by leg muscle weakness and back pain so severe he can only stand or walk for a few minutes before he must sit down.
He has been climbing into a bathtub, but he and his wife decided the best long-term solution was to make another bathroom handicapped accessible.
They began searching Facebook to find a contractor to do the job and found someone who seemed promising, named Brandon Seegraves in Muncie, operating a business called My Other Half Handyman.
They invited Seegraves to their house in early August, liked the ideas he presented to them and pictures of various options.
Seegraves told the couple he would widen the bathroom door so Robinson's wheelchair could get inside, install a handicapped toilet, a new sink, and shower stall with a seat and grab bars for $4,000. The couple signed a contract with Seegraves on Aug. 6 and wrote him a check for $2,000 to get started.
"It all sounded good," said Brenda Robinson. The next day, Seegraves brought a worker who began dismantling the bathroom. Over several days everything was taken out down to studs, beams and joists.
A couple of surprises occurred during the work. The couple told Seegraves a heating system for the bathroom was in the ceiling, but the workman failed to brace the ceiling properly and the heater crashed down. At another point, the workman accidentally cut through a water pipe, which had to be fixed.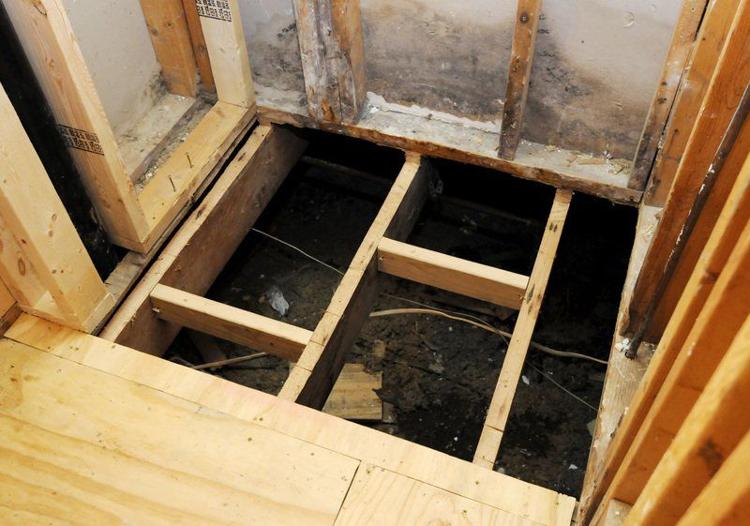 Dennis and Brenda Robinson hired a Muncie contractor to remodel a small bathroom in their home to make it handicap accessible. After the Alexandria couple paid $2,000 of the $4,000 estimated cost to Brandon Seegraves, the contractor demolished the old bathroom in August but has not returned to finish the job.
Don Knight
One of the first things Brenda Robinson noticed was that Seegraves' worker wore an ankle monitor, an indication he was on work release.
"I didn't judge him for that," she said. But after several days he began asking the couple for money. They refused to pay him.
The couple also noticed that lumber Seegraves brought in for the job appeared to be used because nails had to be removed.
Then, the excuses began. One day, Seegraves had a flat tire. Other days he had to care for his fiancee's children. Later, his girlfriend fell and broke her wrist. He was helping to plan their wedding.
Some days Seegraves told the couple his workers would arrive early in the morning, but then never arrived, or showed up as late as 1 p.m. Yet, no matter what time they arrived, they always had to leave by 5 p.m. Then, there was this text message in late September: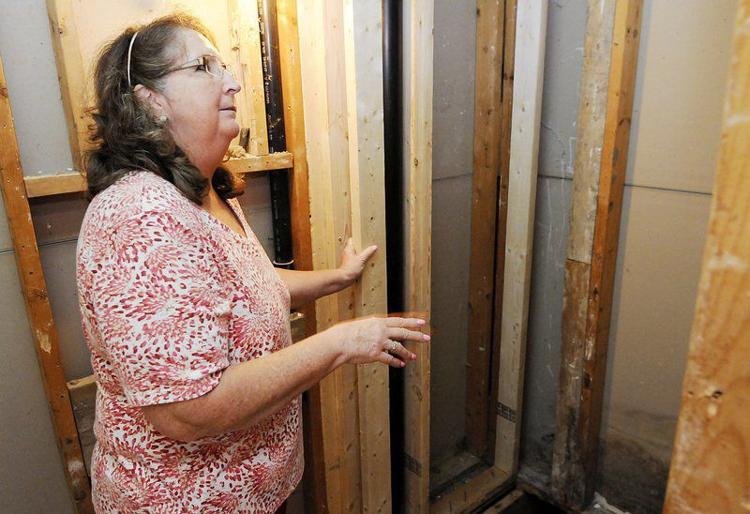 Photos by Don Knight | The Herald BulletinBrenda Robinson stands in her unfinished bathroom in her Alexandria home. The Robinsons paid half of the $4,000 cost estimated by Brandon Seegraves to remodel their bathroom and make it handicap accessible. The contractor demolished the old bathroom in August but has not returned to finish the job.
Don Knight
"Brenda, I have ran into an issue I have been paying my crew with the deposit you had given me and I have ran out money. I was expecting to have a check from another job today but the customer decided to back out. This is completely my fault and a mistake I made but I want to make it right!" he wrote.
Now, two months have passed since the couple hired Seegraves. Their money is gone. The bathroom remains torn apart, and Dennis Robinson struggles daily climbing in and out of a bathtub, knowing he could fall at any moment and not be able to get up.
The Herald Bulletin reached Seegraves by telephone Thursday afternoon and asked if he planned to finish renovating the Robinsons' bathroom.
"I have every intention to," Seegraves said.
When the reporter asked the contractor when that would happen, he hung up.