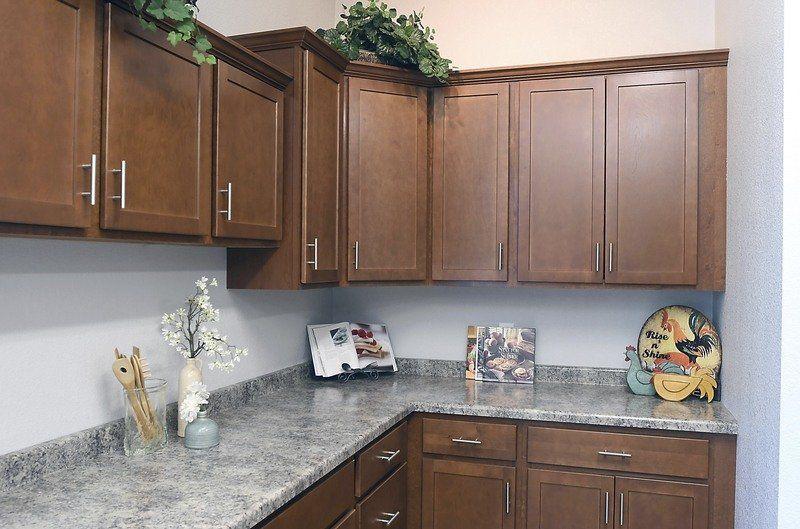 Whether tackling a new apartment complex or a tiny bathroom remodel, it's always nice to cut costs on construction projects without cutting corners. This is what inspired an area contractor to open Kitchen, Baths and More in 2006. The company sells cabinets, countertops and finish accessories to lumber yards, contractors and homeowners throughout southern Minnesota.
Co-owner Jake Schrom said his father, Troy Schrom of Schrom Construction, opened Kitchen, Baths and More as a way to lower costs on his projects. "He started it as a side hobby helping people with their kitchens, and it just grew into supplying for other contractors," he said.
Schrom grew up helping his dad with construction projects, but he started running Kitchen, Baths and More two years ago around the time it opened its Eagle Lake storefront. He previously worked as a supervisor at the Unimin facility in Ottawa but didn't like how it cut into family life. That's when his dad suggested he take over the store.
The company specializes in Merillat and KraftMaid cabinets, along with Cambria quartz and Leslsie marble countertops, but it has access to many brands. About 80 percent of the company's sales are for new construction, Schrom said, but they also help walk-in customers with renovations as small as new countertops.
Schrom believes there's a misconception that big box hardware stores offer lower prices than small retailers. Big box stores buy a larger quantity, but they often pay the same manufacturer prices as local wholesalers, and smaller stores can keep their markup lower, Schrom said.
"We've had a lot of people come in that are just price shopping, and they'll quote us next to the box stores," he said. "We'll beat them nine times out of 10."
Building for the future
It's a good time to operate a business in the construction industry. New housing starts for both single- and multi-family units reached 1.35 million in May, which equals an 11 percent increase from 2017, according to Census Bureau data. Remodeling also continues to grow, with homeowners spending an estimated seven percent more than last year, according to Harvard University's Joint Centers for Housing Studies.
"Annual spending on residential improvements and repairs by homeowners is set to exceed $340 billion by early next year," a recent JCHS report states.
With the steady rise in spending, Schrom has looked at hiring another designer and an in-house carpenter to complete installations. The company would also like to open a second location at some point, possibly in Rochester.
However, the number of projects being completed nationwide has stalled due to a shortage of workers in the skilled trades. Last year, the Associated General Contractors of America stated that 70 percent of members "are having a hard time filling some hourly craft positions." For Minnesota contractors, this figure reached 78 percent.
"It's hard to find good help," Schrom said. "One of our contractors says he even has a hard time finding bad help."
Without an in-house carpenter and with his usual contractors being so swamped, Schrom has been forced to turn away some work.
"It's hard to do because you want to take on as much as you can, not knowing when it will dry up again," he said. "But at the same time, you want to do justice to the jobs that you're working on."
Inspiring customers
Whether customers know exactly what they want or just want something different, staff designer Emily Kopischke can refine the ideas. This process starts with looking at designs on websites like Pinterest and Houzz, then creating a 3D renderings of the project.
Some customers follow trends, which requires the staff to stay current. "With the last couple of years, everything has been white painted, black stained and with a lot of grays. Now we're seeing navy blues and a lot of gold coming back. It's kind of a clean, elegant look," Schrom said.
However, many customers like to do their own thing, choosing their favorite colors and styles. "Every single project is so different," Schrom said. "Just seeing how happy people are when they have the final project and they can't believe that this is theirs, then starting the next day with somebody else and going through the same process — it's pretty enjoyable."
Kitchens, Baths and More
708 Parkway Ave., Eagle Lake
507-257-5100
Source: http://www.mankatofreepress.com/news/local_news/building-business-kitchen-and-bath-store-grows-in-eagle-lake/article_144db965-1cdf-5dc3-9ae4-ad2a53a5b7f3.html