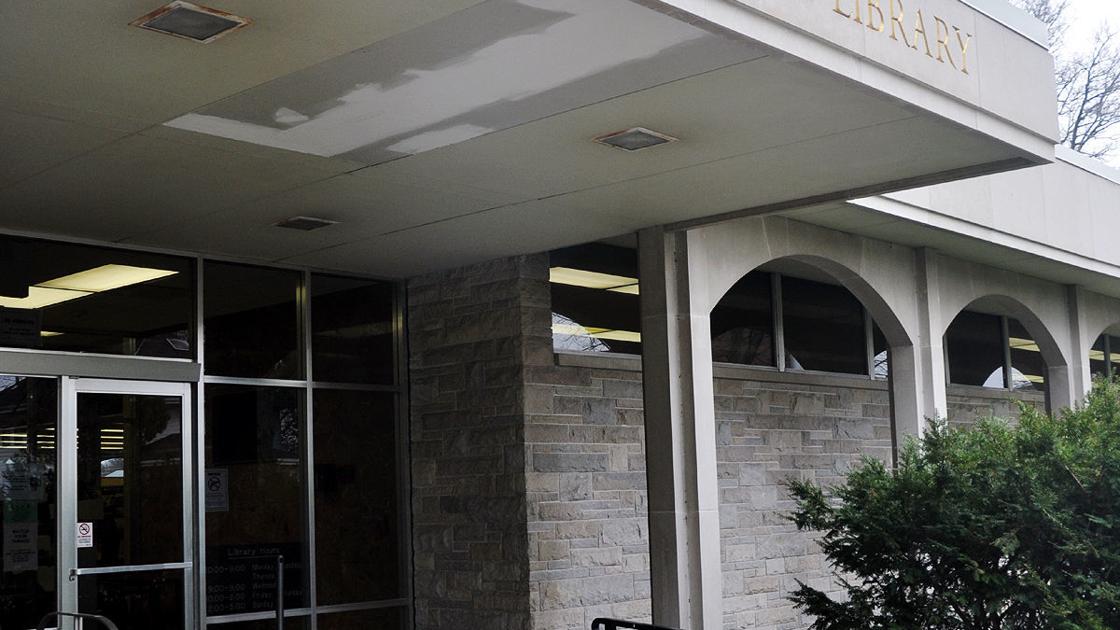 People really will get to see Keene Memorial Library in a new light — or several new lights — after a project which hopefully will save an estimated $25,000 a year.
Lighting was a topic of discussion when the library's advisory committee met Monday afternoon.
Tina Walker, library director, said it will cost an estimated $77,000 to convert the entire facility to LED (light-emitting diode) lighting — that includes 20 large, gym-type lights in the ceiling above the circulation and welcome desk.
She then shed light on how this project would benefit the library.
Previously, engineers, who came into the building for architects working on the pre-design for the library expansion project, brought a device to measure the amount of light.
"That's when we found out how bad our lighting was," Walker said.
Walker said 50 of the light fixtures in the library don't work and the facility doesn't meet the minimum requirements for reading light. There is inadequate light at the welcome desk and stairs.
"The ballasts (in the fixtures) are dead, so we have to replace the entire thing," she said. "These are so old that a lot of companies aren't carrying them anymore.
"So do we wait three to four years for the remodel to fix these lights or do we move to LED lights and change out everything in the building?"
The library orders light bulbs by the hundreds and it costs between $300 and $400 every time an order of 150 bulbs must be placed. They've bought 365 bulbs in the last year.
What's more, a staffer must spend time changing the light bulbs when that individual could be completing other tasks.
By going to LED lighting, the library won't have to buy another 200 light bulbs.
Walker mentioned the cost savings of going to LED lighting.
She said the library's electric bill is $50,000 a year.
By going to LED lighting, the library would go from using 30 amps to two to four amps.
"They expect our electric bill to drop over 50 percent," Walker said.
"So changing all this out could save $25,000?" asked Larry Jirsak, committee chairman.
"He (the electrician) estimated in three to five years we could recoup all of our costs," Walker said.
Jirsak and Walker noted it would be a huge impact if the library could save $25,000 a year by going to the LED lighting.
Walker was told by Alley Poyner Macchietto Architects in Omaha, which worked on the pre-design phase of the library expansion project, that if the library used the newest LED bulbs, they could be reused in the expansion.
Funds are available in the library's budget to complete the project.
Walker said that in preparing an end-of-the-year report on capital improvements, she saw that the library had funds left over because of projects that weren't able to be done.
For instance, library bathrooms weren't able to be refurbished, because they didn't meet grant requirements which stipulated that they not be remodeled for 10 years after that project's completion. And with the expansion project, the bathrooms would be refurbished before then. Other projects also weren't completed, because they'll become part of the upcoming library expansion project.
"A lot of those projects that we didn't do will be fixed by the remodel," Walker said.
The LED lighting project will need to go to Fremont City Council for approval.
"It will be great," Walker said of the project. "I hope they move forward with it. We didn't budget for it. It's not technically in the capital improvement plan, but it's really a need that needs to be fixed, because it's detrimental for the staff to be reading in light like that."
Because the LED lighting will cost more than $30,000, the project will need to be let out for bids.
In other business, Walker told the committee about a new Home School Patron Code.
"We have a lot of homeschool kids in Fremont," Walker said.
The library has a limit in the number of items that can be checked out at a time — that includes books, music sheets, CDs and DVDs.
"These homeschool kids can use 40 to 60 to 70 items, because they come in once a week, get all their stuff and bring it back at the end of the week," Walker said. "We were limiting their ability to learn at home, because we had this limit on their items."
So the library added an extra patron type. With this homeschool code, these students can check out up to 100 items.
The checkouts will be monitored to see how much might fall into an overdue list.
"If it becomes a problem, we'll come back and change it, but they're on a trial period," she said.
Parents are pleased about the new code.
"They're very happy that we're willing to work with the homeschool groups to allow them better access to our resources," Walker said.
Homeschool students check out reference materials and nonfiction.
"They're all responsible for lost material," Walker said. "I will say, though, that the homeschool groups are probably our best patron type for bringing back items."
Walker also told the board that Sonia Vanderworth, the new children's library assistant, has been doing a great job.
The library is planning its first-ever Halloween Extravaganza from Oct. 26 and 27. There will be a haunted house and a children's carnival. Times have yet to be announced.
Children's picture books also are being relabeled by topics — such as trucks or dinosaurs — instead of by the Dewey Decimal System.
Source: https://fremonttribune.com/news/local/library-board-discusses-lighting/article_948b26a5-63e3-562c-a718-c7f5f2e1b721.html