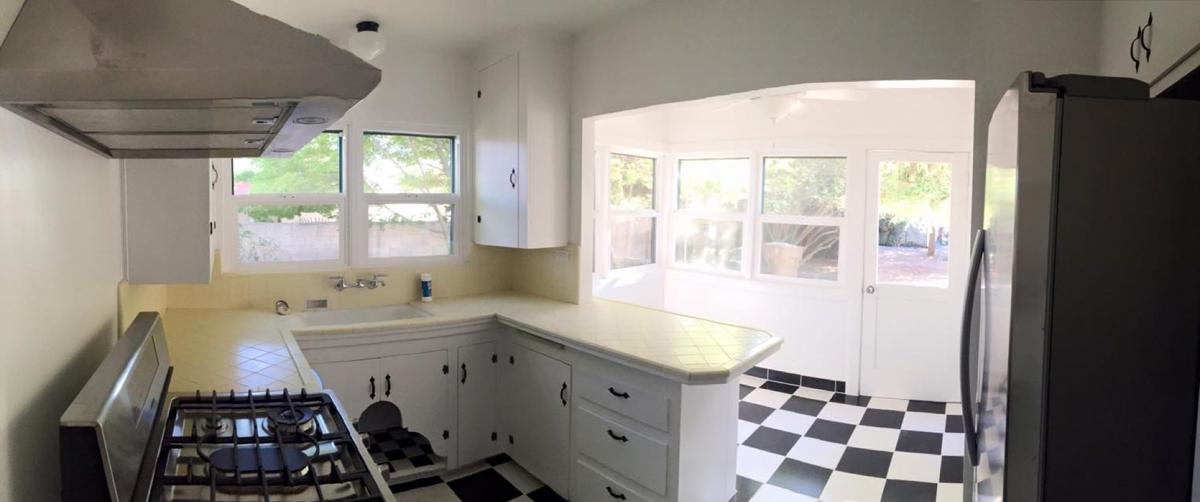 Zachary Griffin admits he decided to buy and remodel a small home in Bakersfield's Oleander area because of his fond childhood memories.
Michael Ressler, a longtime family friend, had owned the 936-square-foot, two-bedroom, one-bath house that was built in 1936 near the intersection of First and A streets since the 1970s.
Ressler had worked many years for Griffin's father, Mike Griffin, at M.A. Griffin & Sons, a downtown Bakersfield pawn shop.
"Since I was so young that Mike's finger could fill my fist, I remember visiting his house often," recalled Griffin, who is now 48. A single man, Ressler lived alone in the house that showed years of his loving care.
After Ressler's death four years ago, Zachary Griffin and his wife, Hannah, decided to buy Ressler's house, where they now live with their 18-year-old son, Jacob.
Griffin, who provides bicycle safety instruction for the Standard School District, and operates a related consulting company, has a lifelong affinity for "old Bakersfield" neighborhoods. He grew up in Bakersfield, attended local schools and his grandmother owned the iconic former French Shop clothing store on Baker Street.
"The house had a lot of emotional significance to me," Griffin explained, admitting that it may not be as big and luxurious as some of the newer homes in Bakersfield, but it has a lot of "character and simplicity."
The home reflects both the life Ressler lived and Griffin's idea that it's OK to make due with just what you need and what you can manage.
Ressler's obituary, which was published in The Californian echoed those sentiments: "Michael lived like Thoreau — simply, lightly stepping through life on our fragile planet. But the imprint he leaves on our hearts is deep and long lasting."
Getting to work
The Griffins paid about $60,000 for Ressler's house, which includes two large garages on the property, and spent another $70,000 on improvements. Their goal was to retain the integrity and character of the home, while updating some of its aspects and making necessary repairs. They hired Hardt Construction Services, a Bakersfield firm, to do the work.
Work included replacing 18 of the 21 windows in the house. The remaining windows, including the uniquely 1930s vintage ones in the bathroom, were repaired and new glass inserted. The home's stunning wood floors were refinished, and the heating and cooling system and roof were replaced.
Interior and exterior walls were painted, floors in the garages refinished and electrical systems upgraded to accommodate a "plug in" electric vehicle.
The original kitchen featured the small black-and-white checkered linoleum that was commonly used in the 1930s. The Griffins continued that theme with 12-inch ceramic black and white tiles. While retaining the well-preserved original yellow tile kitchen counters, they installed modern-day kitchen appliances.
Asked why he decided to embark on an expensive remodeling project, rather than build or buy a new home, Griffin responded, "I felt it was more important to have a home with character."
Griffin's future plans — maybe 10 years into the future — include converting one of the garages on the property to a studio apartment to possibly rent out or provide more living space for a larger family.
Remodeling trends
Michelle Hardt, who oversees design services for her family-owned construction and remodeling company, reports that home remodeling is booming throughout the nation, including in Bakersfield. More people are deciding to stay in their homes and remodel. Many younger homebuyers are purchasing older houses and updating them.
"We break down our customer base into three age groups: 18 to 32; 33 to 54; and 55-up," said Tim Hardt, Michelle's husband and company co-owner, who explained people in the youngest group seem to have limited cash for home buying and renovating, while those in the 33-to-54 age group seem to have the most resources.
People in the middle age group generally are in their highest income-earning years and know what they want, he said. Customers 55 years of age and older are often not interested in moving into a new home, or taking on new debt.
"They are slower to make decisions; however, when they make their minds up, they rarely change. They have plenty of financial resources, but are very frugal," he said, adding that about 77 percent of the customers contacting their company for the first time are women between the ages of 42 and 54.
The Hardts offer a class through the Levan Institute for Lifelong Learning at Bakersfield College to help local homeowners decide on the scope of their remodeling projects and develop construction plans.
Whether the project involves a cosmetic face-lift, or room addition, homeowners must answer a wide range of one-time-only questions, said Michelle Hardt. Just beginning the task of answering these questions and planning a renovation can be overwhelming.
"Home renovation does not have to be stressful if you have clear goals in mind and a reasonable plan," she said.
"Decisions concerning such things as the color and texture of flooring, for example, and the types of kitchen appliances can add and subtract thousands of dollars in project costs," she said, estimating the average upgrade to a home has risen for her company to $67,000; kitchen remodels are the No. 1 requested in Bakersfield, at 44 percent; bathrooms are second at 36 percent; room additions are third at 11 percent; rear yard remodels are fourth at 7 percent; and house facade face-lifts are fifth at 2 percent.
The next Levan Institute remodeling workshop will focus on the "Ultimate Kitchen Makeover." Beginning on Oct. 11, the workshop will feature two weekly Thursday evening sessions from 6 to 9 p.m. with a field trip on Saturday, Oct. 20 from 10 a.m. to 1 p.m. The first session will help homeowners become aware of costs, options and timelines to consider before planning. The second session is a field trip to a kitchen remodel in progress with lots of questions and answers. The final session will help homeowners begin formulating remodeling plans and learning how to make choices as they embark on their own ultimate kitchen makeover.
The workshop will be held in Levinson Hall at Bakersfield College. The cost to enroll is $25. Go online to bakersfieldcollege.edu/levaninstitute to register for the workshop and other fall courses.
Maureen Buscher-Dang owns a Bakersfield marketing company and serves on the Levan Institute for Lifelong Learning advisory board.
Source: https://www.bakersfield.com/entertainment/kitchen-not-so-confidential-workshop-takes-mystery-out-of-home/article_666cde5e-c6b7-11e8-b1a6-73c8744bae1b.html