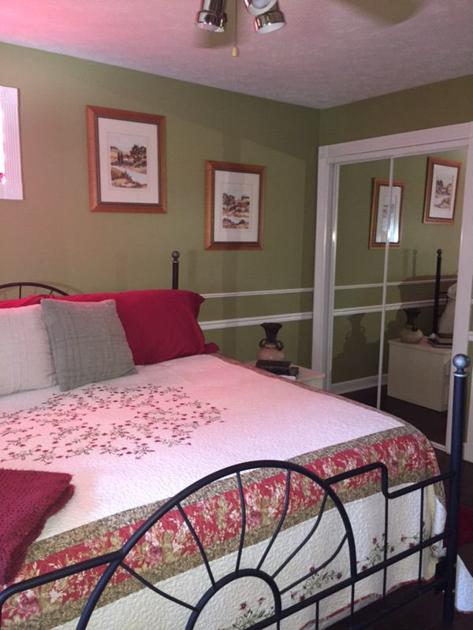 BELINGTON — A renovated home close to downtown Belington (Barbour County) is for sale.
The two-story brick house at 128 Howard Ave. is available for $149,900, KLM Properties' listing agent Donna Dahl said.
Sonny Moore has lived in the house off-and-on for 50 years. The house, built in 1942, was deeded to him and his wife Kathy.
"I've remodeled it completely," Moore said. "The house is roughly 2,500 square feet now."
Moore said he begun remodeling in the 1970's, with the last major remodel being when upstairs rooms were built in 1994. The original home was one level and about 1,000 square feet.
The house now contains 10 rooms, including three bedrooms and two full bathrooms.
There is 1,560 square feet of finished space above grade and 984 square feet of finished space below grade.
The house has an open concept with lots of lighting, Dahl said.
The first floor includes a living room, dining room, kitchen, full bathroom, bedroom, sunroom and laundry room.
The kitchen countertop was replaced about two months ago, Moore said. The kitchen range, microwave, dishwasher and refrigerator will stay with the house.
The living room and dining room both have wooden floors, while the kitchen has tile floors, and the laundry room has wall-to-wall carpeting.
The laundry room washer and dryer will also stay with the sale of the house.
The second floor includes "a family room, pretty big bedroom, good size bathroom and a deck room that I closed in and made a pool room out of," Moore said.
Dahl said the family room contains skylights.
The house contains two fireplaces.
A small basement contains the hot water tank and furnace. The hot water tank was replaced about five years ago.
In addition to a carport, there is enough off-street parking for at least three vehicles.
"The carport will hold two vehicles very easily," Moore said.
Outside, there is a porch, patio, deck and storage shed/outbuilding in the private yard. Before a wooded area is a spacious backyard with a fence around the exterior of the 0.27 acre property, suitable for both pets and families.
There are a pair of decks on the ground level.
Dahl praised the "beautiful landscaping, with three outside decks for entertaining."
Students would attend Belington Elementary, Belington Middle or Philip Barbour high schools.
Interested buyers can contact Dahl at 304-841-0814 or 218-269-2400.
Source: https://www.wvnews.com/news/local/wvhomes/upstairs-added-kitchen-remodeled-in-belington-home-for-sale/article_7a53de3c-c697-5219-ba3e-c7009c68b762.html