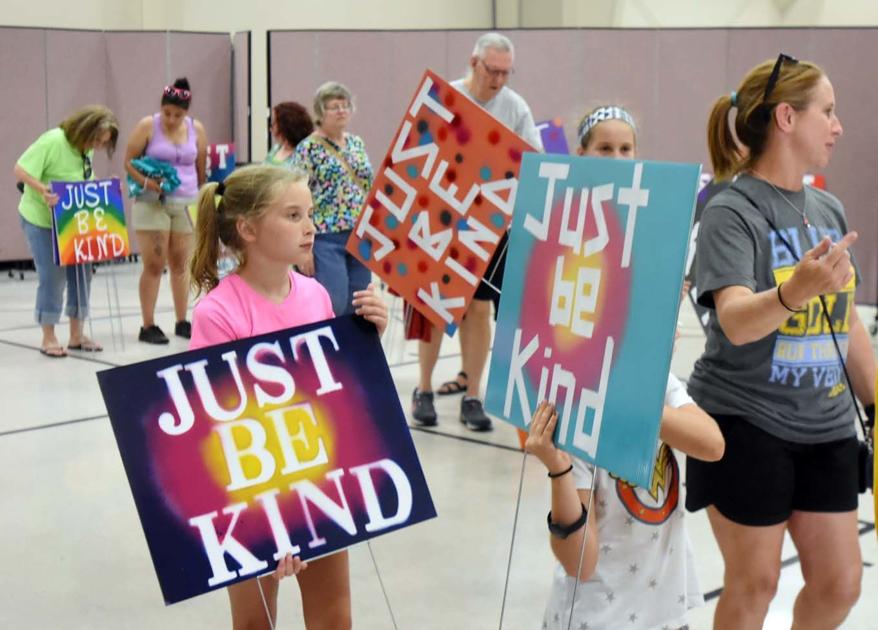 A long line formed late Mon­day afternoon outside the gymnasium at College Heights United Methodist Church in Eliza­bethtown as residents waited to purchase "Just Be Kind" signs.
About 150 signs were available for purchase. All were sold.
The signs were created for the Kindness Campaign, a group comprised of about 25 College Heights members. The campaign started in June and about 1,500 signs have been sold since then, organizer Tricia Smith said.
Owen Hall, who attends the church, was one of many who visited Monday night for a sign. He said he appreciated the sign's message and wanted to place it in his yard.
"I've just been talking about getting one but I haven't done it yet," he said before entering the gymnasium.
The group now has established pick-up days in which residents can buy the $10 signs at the church, which are from 5:30 to 7 p.m. Mondays and Wednesdays and from 11 a.m. to 1 p.m. Thursdays. "Just Be Kind" shirts also are available now for $15.
Money raised from the merchandise goes toward those in the community who are in need, but to no particular charity or nonprofit, Smith said. She said proceeds have paid for projects such as remodeling a bathroom for a handicapped man, paying for funeral expenses for a man without life insurance, collecting baby necessities for a displaced single mother and paying for back-to-school clothes for a child in need.
Smith said the campaign has raised about $8,800 after expenses as of Monday night.
Emily Bagley, Smith's sister and a member of the Kindness group, said it has been overwhelming to see the amount of support for the campaign.
"We thought we were going to sell about 50 to 100 signs and look at the madness," she said, referring to the large crowd assembled in the gymnasium. "God blessed us and we were able to help so many people in our community."
The signs can be seen in areas far outside Hardin County with some in Pennsylvania, New York, Iowa and Tennessee, Smith said.
Though one of the campaign's goals is to raise money for those in need, she said another goal is to spread the sentiment displayed on the signs to the community and beyond.
"It's three simple words that everybody can relate to," she said.
Source: http://www.thenewsenterprise.com/news/local/kindness-campaign-shows-no-signs-of-slowing-down/article_ac339bb4-8d0a-5949-a059-e41f0dae51de.html