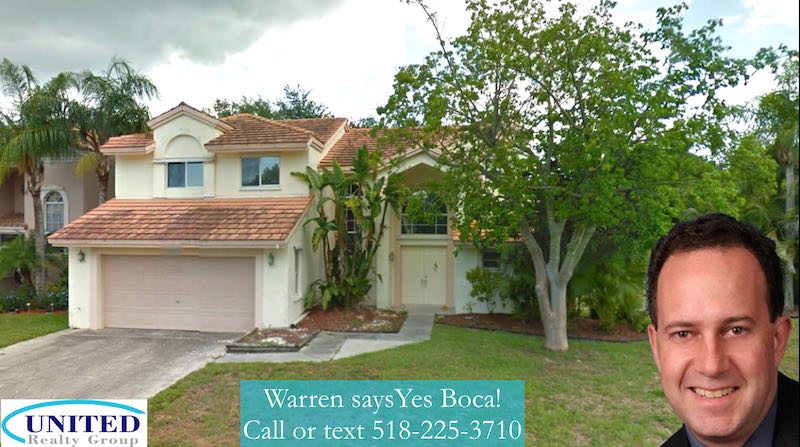 10291 W Sunstream Lane sold for $435,000; image by Google.
There were 18 home sales in the first half of 2018 in Boca Springs and Palmetto Pines. Two houses in Boca Springs sold for over $400,000, while Palmetto Pines topped out at $375,000.
Boca Springs
Sellers in Boca Springs are getting more for their homes this year so far.
10291 W Sunstream Lane, pictured at top, has 4 bedrooms and 2 /12 bathrooms in 2300 square feet. The new roof and extensive remodeling helped it sell in 6 weeks for $435,000.
10880 Fox Glen Drive sold for $419,000 with 4 bedrooms and 3 bathrooms in 2700 square feet after more than 5 months on the market. The house was also extensively remodeled, but non-neutral design choices may have affected the sale.
The smaller 10711 Palm Spring Drive sold for $341,000 with 4 bedrooms and 3 bathrooms in 2200 square feet. The listing text described remodeling but the photos did not show that well.
Two homes sold below $320,000. One was a bank-owned foreclosure, 11172 Sandpoint Terrace, sold for $319,000 with 3 bedrooms in 1900 square feet. And 10303 Boca Springs Drive, with only 1600 square feet, sold for $315,000.
Palmetto Pines

22074 Greenwich Court E sold for $375,000; image by Google.
Palmetto Pines saw 13 sales in the first half of the year. At the top was 22074 Greenwich Court E with four bedrooms and two bathrooms in 1750 square feet all on one floor. The house sold in just 9 days, likely helped by professional photography that showed off the remodeling, lot size, pool and other features. Photography included multiple photo sessions and HDR software.
Two other homes sold for $350K or more. 22317 Boulder Street went for $359,900 with four bedrooms and three bathrooms in 2000 square feet, while 11178 Delta Circle was $350,000 even with three bedrooms and two baths in 1700 square feet – selling in just two days.
All but two of the remaining homes sold for over $300,000. For example 10901 Granite Street netted $327,000 with 3 bedrooms and 2 baths in 1450 square feet.
Second from lowest was the 1100 square foot house at 4562 Ararat Street, selling for $293,000. The lowest, at $267,000, was 4747 Betelnut Street, a bank-owned foreclosure.
Source: http://westbocanews.com/2018/07/palmetto-pines-and-boca-springs-home-sales-2018-through-june/