Almost three months ago, I recommended Sherwin-Williams (NYSE:SHW) as a trade – a trade that could turn into an actual long-term investment, if things panned out as planned. That possibility is still on the table too. But in that we have to play the hand we're dealt and should always seek to maximize our return and minimize our risk, I'm reversing that call today.
If you stepped into SHW from my June 6th call, I now suggest locking in your 15% gain. This is not an indictment of the company. It's simply an acknowledgement that the rally took shape a little too fast for its own good, and there's more risk than reward in holding SHW from here. Feel free to buy it again once the froth melts away.
Fear not though, if you're looking for a new trading idea that could morph into a long-term position. I now recommend you get into rival paint company PPG Industries (NYSE:PPG). Unlike Sherwin-Williams shares, PPG isn't overbought nor overvalued.
The Bigger Picture
The fact that one paint company is simply replacing another should tell you something about the status of construction and remodeling market. Although pending home sales fell for a seventh straight month in July and new home starts are fading fast, construction isn't exactly a make-or-break market for the paint industry. In fact, purchases of existing homes – which also often prompt a paint job – don't drive a great deal of the industry's bottom line either. That's why slowing sales of existing homes isn't a major concern either.
The "big money" for these outfits? Patrick Houlihan, managing director of Australia's paint maker DuluxGroup (OTC:DULUF), said earlier this year, "Our core existing home renovation markets, which account for approximately two thirds of DuluxGroup revenue, are expected to continue providing resilient, profitable growth." [Note that PPG's Dulux brand serving the North American market is a separate entity.]
It's not a dynamic unique to the southeastern quadrant of the world though. The all-important American market is just as renovation-minded. Harvard University's Joint Center for Housing Studies confirms it. The organization believes spending on remodeling in the United States will grow to the tune of 7.2% over the course of the next four quarters, versus 6.6% growth in remodeling expenditures for the past four.
Paint is an easy and straightforward way to tap into the trend. The trick is simply finding the right stock at the right time, or at least avoiding the wrong stock at the wrong time.
The Exit
While some investors struggle to find stocks to buy and then struggle to find the guts to actually pull the trigger, the more stressful part of this dance is getting rid of a trade. We tend to want to hold onto a stock as long as we can – which, more often than not, is the right stance. There are times, however, when the right thing to do is walk away. This is one of those times.
There's nothing inherently wrong with the company. There's something inherently wrong with the stock though. Two things, actually.
First and foremost, while the trailing P/E of 23.3 and forward-looking one of 20.4 aren't completely unpalatable, they are a bit tough to justify. Even beyond that though, most other valuations measures for Sherwin-Williams are less than comfortable. They're not at long-term peaks. Those were seen back in January… but when the company was in regroup mode and still sorting out the 2017 acquisition of Valspar. The current froth doesn't reflect anything besides a stock price in excess of its usual, "normal" valuation.

Source: Thomson Reuters Eikon
The chart itself is also problematic in that SHW shares are within striking distance of a technical resistance line (white, dashed) that extends all the way back to the early 2015 peak. It's possible shares could push past that ceiling with this effort. But there's no particularly clear reason why this time would turn out differently.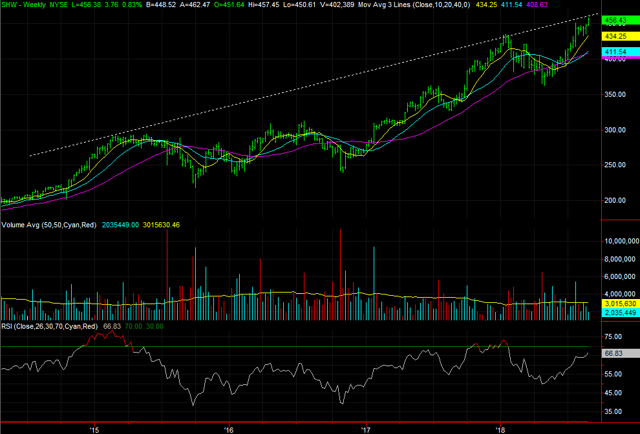 Source: TradeStation
You'll also see there's not been a great deal of volume behind the gains since early June. In fact, the higher SHW goes, the less buying volume we're seeing. If a rally is to last, it needs to grow participation on the way up.
We'll walk away while we can, concerned that the limited buying interest here is a sign that it will evaporate altogether sooner rather than later.
The Entry
But why PPG? As was noted, we remain firm believers in the remodeling trend, and there are few other reliable ways to tap into that trend. More than that though, PPG – a shortened version of the company that used to be officially named Pittsburgh Plate Glass Company, by the way – is simply a cheaper option with more upside ahead of it than behind it.
Our call is partially chart-based. PPG hasn't gone anywhere, on a net basis, since late 2014. Some important action has taken shape during that time though. Namely, the chart's been squeezed between a rising support line and a horizontal resistance line (both white, dashed) at $118.90. The slow squeezing action has likely allowed a swell of pent-up trading action to fester. Now, it's waiting to be unleashed. Though it's possible this approach won't be the one that punches through, it may well be. Even if not though, there's room to build a cushion between the current price near $111.70 and that ceiling at $118.90.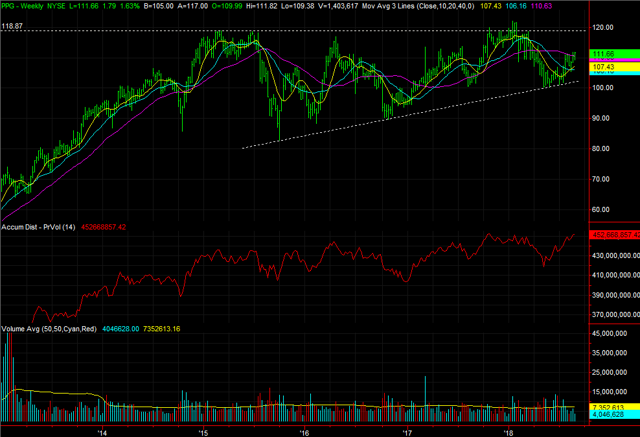 Source: TradeStation
Also important is the company's sales and revenue trend… past and projected.
After a solid 2015, the company hit a headwind in 2016. Things didn't get much better in 2017, but a handful of initiatives finally has the top line moving in the right direction again. Net income hasn't followed suit yet, but analysts believe the earnings recovery will start to take shape in earnest as 2018 turns into 2019.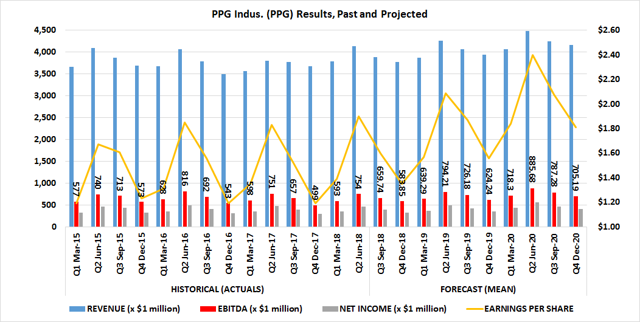 Source: Thomson Reuters Eikon, image made by author
That growth may already be underway, in fact. PPG's second-quarter sales were up 9% year over year, and per share earnings grew 6%. It's not earth-shattering, but it is more than respectable.
Mostly though, this is cheap growth to tap into – the same kind of growth Sherwin-Williams was, and still is, offering, but about three-fourths of the cost of SHW on a forward-looking basis. PPG is trading at 15.9 times its forward-looking earnings, and that valuation is based on projections that likely underestimate the company. The stock's price/cash flow and price/sales ratios are (much) closer to the low end of their normal ranges than the high end. (Everything from mid-2017 on the graphic below is a normalized valuation measure, free of the impact of any accounting oddities.)

Source: Thomson Reuters Eikon
Bottom Line
For the record, PPG isn't just paint. The company offers several specialty coatings as well, as well as automotive paint and several other kinds of coatings. The broad global economic growth is fueling those business too though – a trend underscored by Wednesday's report that Q2's GDP growth pace for the United States has a healthier-than-first-guessed 4.2%. Meanwhile, remodel mania is keeping demand for architectural paint in place.
All in all, it's a low-risk, moderate-reward kind of opportunity in an environment where most stocks have gotten a little ahead of themselves valuation-wise.
You may want to use $118.90 as a checkpoint target, meaning you don't want to necessarily bail out there. Rather, you'll just want to reassess there. We're hoping and aiming for a break above that level. If that ceiling is cleared, it could be a fairly explosive move… even if a relatively short-lived one. Pacing is everything.
And as always, a stop-loss is recommended. I'm setting a mental one at $106.40.
Disclosure: I/we have no positions in any stocks mentioned, but may initiate a long position in PPG over the next 72 hours.
I wrote this article myself, and it expresses my own opinions. I am not receiving compensation for it (other than from Seeking Alpha). I have no business relationship with any company whose stock is mentioned in this article.
Source: https://seekingalpha.com/article/4203022-sherwin-williams-ppg-industries