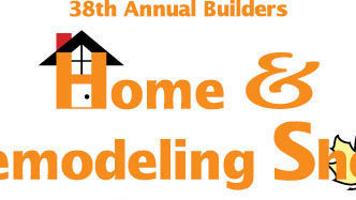 The 38th annual Builders Home & Remodeling Show returns this weekend to the St. Charles Convention Center, according to a press release.
New show hours are 10 a.m. to 7 p.m. Sept. 21-22, and 10 a.m. to 5 p.m. Sept. 23. Admission and parking are free.
The show, produced by the Home Builders Association, gives area residents the opportunity to see 200 companies in 300 booths on both levels of the convention center. Show visitors can see, learn about and buy the latest home products and services in one place and have their questions answered by many local experts.
St. Louisans can find what they need for their homes, inside and out, including kitchen and bath designs and fixtures, flooring, window treatments, decks, fencing, windows, siding, doors and more.
See HGTV star Chip Wade, presented by LP® SmartSide® on Sept. 21-22. He is host, designer and executive producer of his Emmy Award-winning series "Elbow Room." Wade will present Art of the Amazing Space, a dive into multiple TV renovations that explores the way we gather inspiration and the process to get the most out of your reno or new build. He will guide the audience through interactive examples of the process and questions to be asking to make sure the process is seamless.
Visit the Party Flavors Sampling Event to sample and purchase a variety of foods and beverages, great for parties and unique gifts. Find smoked and cured meats and sausages (Davis Meat Processing and G&W Meat & Bavarian Style Sausage); garlic seasonings, brines, dips and jerky (Ellbee's Garlic & Seasonings); all-purpose sauces (Freddie Lee's Gourmet Sauces); nut and chocolate mixes (Grandma's Nuts); salsas and tortilla chips (Jose Madrid Salsa); salsas and pickles (Two Men and a Garden); and wine (Small Batch Winery).
New this year, the Steppin' Out in St. Charles Design Specialty Flower Show will be a beautiful destination for show visitors. Presented by the Greater St. Louis Council of Nationally Accredited Flower Show Judges, the show will feature more than 60 unique floral designs created by local participants. Designers will create floral displays with themes based on popular and historic St. Charles landmarks and destinations. The show is a great way to learn about floral design, and even get involved with your local garden club.
The holidays are coming and show visitors can learn how to enhance their homes with fantastic floral decorations. Attend Walter Knoll Floral Seminars, hands-on floral classes presented by Walter Knoll Florist's world-class design team. Create a bouquet to take home or give as a gift. Choose from several types of bouquets, each valued at up to $85. Classes have a nominal $10-$20 fee.
Shop the Spa Sale for a great deal on a new spa or swim spa. Visitors can choose from a wide variety of models from multiple manufacturers. See spas and swim spas from Spas and More!, located in a tent outside the main show entrance. Prestige Pools & Spas, in Booth 2030 on the upper level, will have spas and swim spas from Tuff Spas and Artesian Spas.
The Home & Remodeling Show is always a family-friendly destination. Bring the kids for fall fun. Kids will enjoy pumpkin painting, coloring, temporary tattoos and games. Free for kids 12 and under while supplies last.
The Home Show is once again hosting a Food Drive. Visitors can donate food items to the St. Louis Area Foodbank and are encouraged to bring non-perishable food in non-breakable containers. Suggested items include: peanut butter, tuna, canned meats and beans; canned fruits and vegetables, fruit juice, jellies, jams and dried fruit; cereal, oatmeal, rice and crackers; pasta and sauce, boxed meals, soups and stews; and baby products like powdered formula, baby food, diapers and wipes.
The Home & Remodeling Show gives area residents the chance to visit 300 booths featuring the latest home products and services all under one roof. Visitors can bring their plans and ideas and have their questions answered by the experts.
Source: https://www.stltoday.com/suburban-journals/stcharles/home-remodeling-show-returns-to-convention-center/article_8e0e1e39-e154-5734-bded-1a8b75697f89.html