Wine storage ideas run the gamut, from fun¬†to fancy to plain ol' functional'ÄĒplus some nifty DIY versions. And while some homeowners splurge on temperature-controlled wine fridges, few have¬†the money or space¬†to devote to an actual wine cellar.
Instead, most grape lovers store their bottles creatively, using or repurposing nooks they already have. And you can, too!
"If you're remodeling'ÄĒor you really love your wine'ÄĒyou might consider swapping a base cabinet for a small wine fridge for as little as $200," suggests¬†Darla DeMorrow, an organizing expert and author of "Organizing Your Home With SORT and SUCCEED." As for the rest of us regular Joes, here are eight more affordable ways to store wine at home.
1. Rack it
Hold 36 bottles in this good-looking chrome rack.
Amazon
Purchase sturdy modular racks ($143, Amazon.com), and you can¬†organize¬†wine by color, country, or price¬†on each level'ÄĒand also¬†easily see what you have on hand. "With these¬†products, you can start small, and add to your collection over time," says DeMorrow. Or if you have a particular space you're trying to fit, check out a simple kit that you can build to your specifications ($30, Amazon.com). "You can't beat the price, and it's easy to combine a few sets to fill a cabinet or shelf," she adds.
2. Think tall and skinny
Photo by Hill Farm Furniture Ltd 
Trick out some¬†unused space, and your wine storage can double as a decor accent. "A slim, floor-to-ceiling bookcase or built-in that's just wide enough for a pair of shoes can hold two bottles per shelf and keep them mostly dust-free, since the shelf covers a lot of the¬†bottle," says Jamie Novak, author of "Keep This Toss That." Or you could transform wooden milk crates to hold bottles. But don't place¬†them in the pantry next to a bag of onions (the wine will absorb the scent) and skip the top of your fridge for wine storage (heat affects the¬†taste). "Your bottles¬†will be exposed to the fridge's motor and nearby stove'ÄĒand sunlight will also hit the wine¬†on top of a fridge," she notes.
3. Make it portable
Why keep your wine in the same spot all the time? Store bottles on a bar cart, and then wheel it to your living room, deck, or covered porch. Continue the theme on this useful piece by stocking it with an opener, a bowl for used corks, cocktail napkins, and wine glasses.
4. Store by the neck
Turn those bottles around for an unusual wine storage method. Just be sure the rack is deep enough to hold the necks securely.
5. Do the combo
Store wine and glasses together over a chest or table for an instant bar.
Amazon
If you're a minimalist, this look is for you. "Combining wine and your glasses in an all-in-one shelf saves space, as most of these racks can fit anywhere," points out DeMorrow. And storing bottles on their sides is preferred, because it keeps the corks from drying out and shrinking, which can let air into the bottle.
6. Themed wine storage ideas
Have some fun with wine storage! Bring your anniversary trip to life with an Eiffel Tower holder ($35, Bed, Bath & Beyond). You'll also find racks shaped like a man or a butler, a bicycle, a set of antlers, a guitar, a wagon wheel, and a cactus (who knew?).
7. Create your own
Slot your wine in a repurposed card catalog.
Buzzfeed
M is for Malbec, of course! If you can't find a library that's selling off its card catalogs, hit up a flea market or thrift shop for old pieces of furniture. A hutch or bureau can be remade into wine storage with the removal of the bottom drawers. Install cubbies or simple shelves to hold wine, and keep the opener and coasters in the top drawer. If you're extra handy, you could build shelving that rolls out, so it's easy to access bottles and then to push them right back in. Or reconfigure a console or trestle table so wine bottles can be laid flat on the bottom shelf and opened and served on top.
8. Cross-hatch it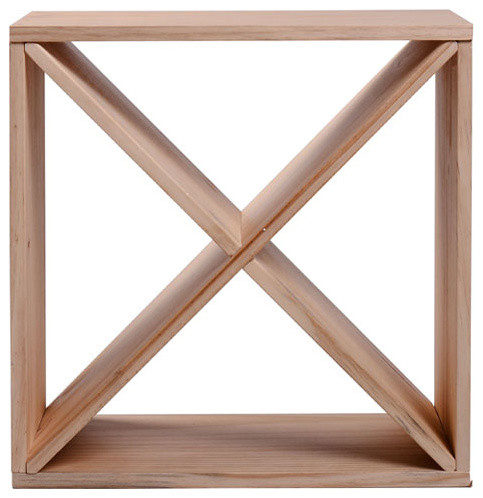 HomCom 24 Bottle Tabletop Wine Rack
This simple design works in both modern and traditional homes ($40, Amazon.com).
X marks the spot with this box-as-wine-storage. Some versions are tall enough to double as end tables, so measure carefully and use one to flank a couch, with a lamp or books on top. Slide this holder on top of or under a kitchen counter, or hide it away in the pantry.
Source: https://www.realtor.com/advice/home-improvement/wine-storage-ideas/