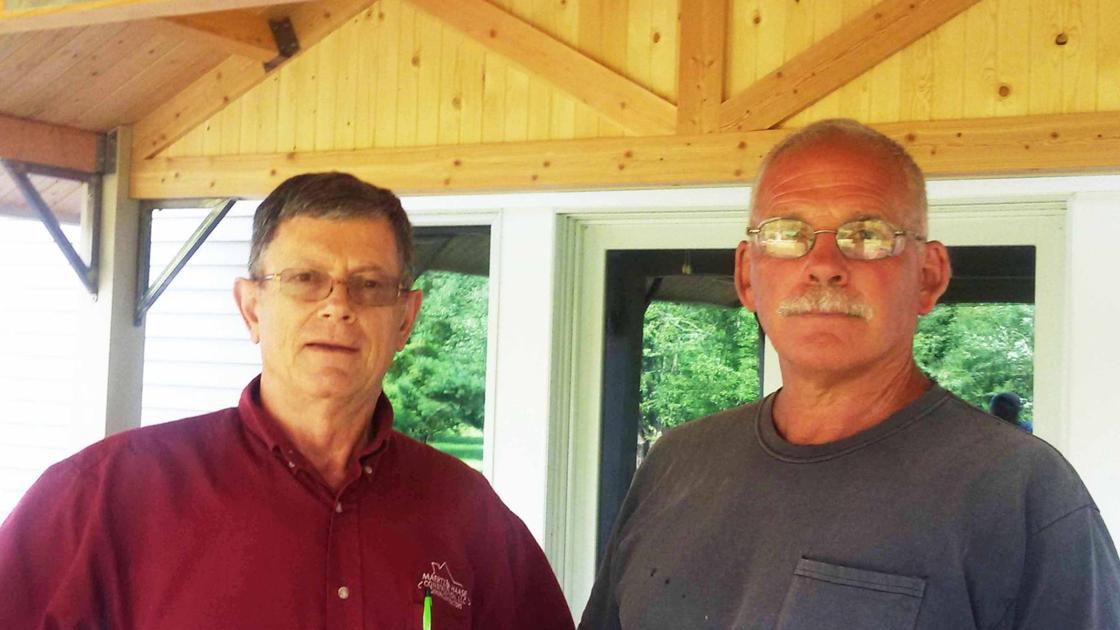 JUNEAU — Peanut butter and jelly. Bacon and eggs. Brats and beer.
And then there's Maertz & Haase Construction — a classic pairing that ends today as the Steve Haase and Mike Maertz retire from their business of building and remodeling for discriminating clients.
The two came to know each other while working at Kant Lumber on East Oak Grove Street in Juneau. Haase had returned from Vietnam in 1972 to start working there and Maertz joined the business in 1974 after graduating from high school.
"The lumber was stored in old ramshackle railroad buildings that were rented on a 100-year lease," Haase recalled. "Mike and I were working there running the carpentry crews, which was typical of lumberyards in those days. Most lumberyards had carpenters and not only sold lumber but completed the work as well."
From early on, Haase preferred estimating and contracting, while Maertz enjoyed carpentry. As time went on, Haase spent more time in the office and Maertz became the crew supervisor. On April 26, 1988, they hammered down their favorite roles when Maertz & Haase Construction was formed.
"We started on Mike's birthday," Haase said.
"At that time, we were building our new house on Highway S," said Haase's wife, Marcia. "I came home from work and Mike and Steve were sitting at the kitchen table in the wretched trailer we were living in, and they said they both quit their jobs and were starting their own business."
"It was a risky thing to do, especially when we were building a new house," Haase said.
The pair specialized in high-end residential remodeling, finding it the most lucrative and enjoyable course to pursue.
"New housing we found was very competitive and remodeling required a whole different skill set than building new," Haase said. "We've had carpenters over the years who are true craftsmen, and that is the sort of work they truly enjoyed. A lot of guys can build something new, but they don't understand the skills it takes to take something old apart and make it work for a new generation. Remodeling changes every decade or so and sometimes we have to utilize 1890 skills to put something back together. Mixing old and new and meeting current codes is something we became good at, and what so many of our clients hired us for.
"We had to decide early on if we were going to do cheap projects or if we were going to use our skills and do nice projects. We decided to do nice projects. You can only build so many drywall boxes. Then it becomes boring and monotonous."
Maertz and Tim Allemand (who has worked there for more than 20 years) are the craftsmen of the company, and their handiwork stands out as the showstoppers of many projects, such as staircases or door installations or finishing touches for kitchen cabinets.
"I think one of the reasons they work so well together as partners is that neither is interested in doing the other partner's job," Marcia Haase said. "What Steve does is just not Mike's thing, and vice versa."
Haase guesses that they did thousands of remodeling projects over the years and built 25 to 35 new homes as well. They also did commercial projects, school updates and more.
"We did the Ponderosa Steakhouse in Beaver Dam and the Clyman Post Office and the Cenex Town Mart in Juneau, and a lot of work for Seneca Foods in Clyman. We've done a lot of different projects," Haase said.
When times were particularly slow, they did roofs as a means of paying the bills. Even then, however, quality work was their hallmark.
After 30 years, however, Haase and Maertz have agreed to call it quits. Both are eager to enjoy their passions, such as raising and training Clydsdales at The Hazienda for the Haases and or spending time with the grandkids for Maertz and his wife, Laura. Maertz also plans to keep doing little projects on his own, as fits his schedule.
Marcia's bookkeeping skills (her role in the business) will be needed until the end of the year. Her tasks grew over time, making her contribution all the more significant.
"The paperwork quadrupled over our 30 years in business," she said.
"One thing we've done over the years is to treat our customers like clients," Haase said. "A customer comes in, buys something and leaves. A client is someone who values your service and you value their involvement in a project. In many or most cases, we've seen them again and again and again."
"Many have become our good friends," Marcia said.
"I had breakfast with one of our customers this morning," Haase said. "We were not only successful because of our craftsmanship, but also because of the wonderful clients that came through our doors. They're the ones who made us financially successful."
Source: https://www.wiscnews.com/bdc/news/local/juneau-area-home-remodelers-hang-up-their-hammers/article_6a4a44ce-3936-5395-8c58-13f922aa77c4.html