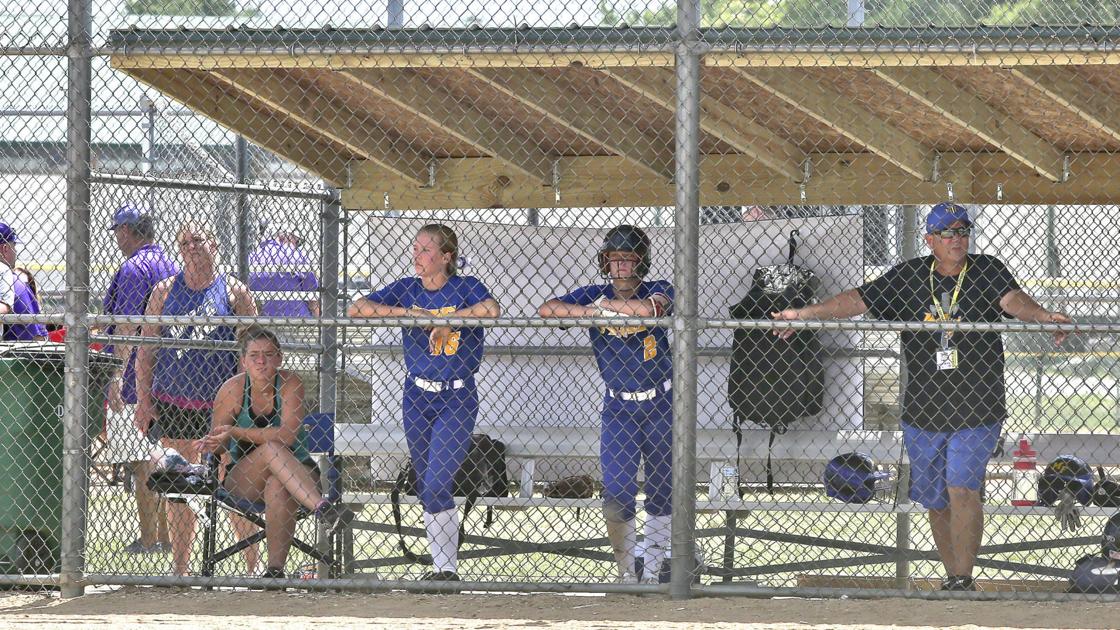 DECATUR – About a week before the American Softball Association's men's state tournament at Rotary Park, the Decatur Park District and Decatur Area Convention & Visitors Bureau contacted Josh Sapp, vice president of the Decatur Building and Construction Trades Council AFL-CIO.
"They needed volunteeers to put roofs on the dugouts at Rotary," said Riki Dial, organizing coordinator for the Southern Region of the Chicago Regional Council of Carpenters, and vice president of Carpenters Local 270 in Decatur.
The building trades unions do several community service projects a year, Dial said, but with only a week to put roofs on five dugouts, they were in a time crunch. They finished four before the tournament started and finished the fifth after it was over, he said.
"We believe in giving back to our communities," Dial said. "We do projects not just for public entities like the park district, but for private citizens, like wheelchair ramps."
They built a ramp the week after finishing the dugouts, he said, for a small child who uses a wheelchair.
The building trades recently worked with the Decatur School District to develop a new construction trades class for seniors in both high schools. The class is using the same curriculum the trade unions use in their apprenticeship programs, and after the two-semester class and graduation, the students will have the opportunity to apply to the trade union of their choice for an apprenticeship.
"For the last 40 years the school districts and community colleges have been pushing students toward college as the only way you're going to make a career," Dial said. "We started working with districts that believe there are still very good-paying jobs, with benefit packages, that you can get without going to college."
College isn't for everyone, Dial said, and students who want to work with their hands, who have a good work ethic and don't mind getting dirty or being outdoors in all kinds of weather are the kind of people the trades are looking for. Apprenticeship training costs the students nothing, and they get paid while they learn as they work under experienced tradesmen.
"You get education and paid at the same time, with no college expense," Dial said. "We're trying to change the perception that the only way to get a good-paying job is to go to college, and that's not the truth."
It's not easy, changing perceptions, he said. Many people are largely unaware of the trades and how much they do in the community, unless they have a personal connection with someone who works in that field.
And fewer students are willing to consider a career in a field that requires physical work, too, he said.
"We've been telling these kids we talk to, 'We can teach you the trade, but we can't teach you a work ethic,'" Dial said. "It's getting a kid with the right mindset. The rewards are out there if you're willing to go out and get it."
The classes began with the start of school last month, said Ashley Grayned, extended learning coordinator for Decatur schools, as part of the district's focus on college and career readiness.
"As we look at graduation rates and post-secondary (education), if I'm hands-on and not college bound, what other pathway can I take?" Grayned said. "This will interest students that are not college-bound, with good income and benefits, and they can become productive citizens of the community."
The trade unions have worked with the district, she said, and told her how their pipeline is drying up and they expect an employment shortage in the next several years as people retire and there aren't enough young people entering the trades to replace them.
"They said, 'You're the largest educational entity in the area. What can we do to get students exposed and excited and familiar with the trades?'" she said.
In middle schools, the trade unions visited for a career fair last year, which they will repeat this year, to answer questions and expose those students to the possibilities. The answer in high school was the construction trades class, which drew 25 students this year and which Grayned hopes will expand to even more next year. The class will include an introduction to all the trades, the tools they use, the kind of work they do and, she hopes, some internships in the spring to let the students have some hands-on experiences as well.
"We're trying to build up excitement in the middle school grades, so when they get to high school, the trades will be on their radar, and the students will have a background knowledge and make that one of their career options," she said.
The class is taught by Ed Walton, who has taught similar classes in Decatur schools for several years, and who had to take extra training in Boston to be able to teach from the unions' own curriculum.
"We're also partnership with Habitat for Humanity, and instead of us building houses, we're going to work on a Habitat house," Walton said. "I'm also looking for a house we can remodel instead of building a new one. You learn a lot more remodeling than building new because you have to work with the old construction and marry it to the new. Also, we'll be having the trades come in and talk to students and we're going out to job sites and seeing first hand the work that's being done. The goal of program is, by the time the students are finished, they'll have a working knowledge of what is done in different trades, what's expected from an apprentice and they'll make informed decisions and go from high school to apprenticeships."
Source: https://herald-review.com/news/local/education/decatur-building-and-construction-trades-serve-community-and-schools/article_0a5b6318-6914-5d96-a06b-e3217ea73631.html