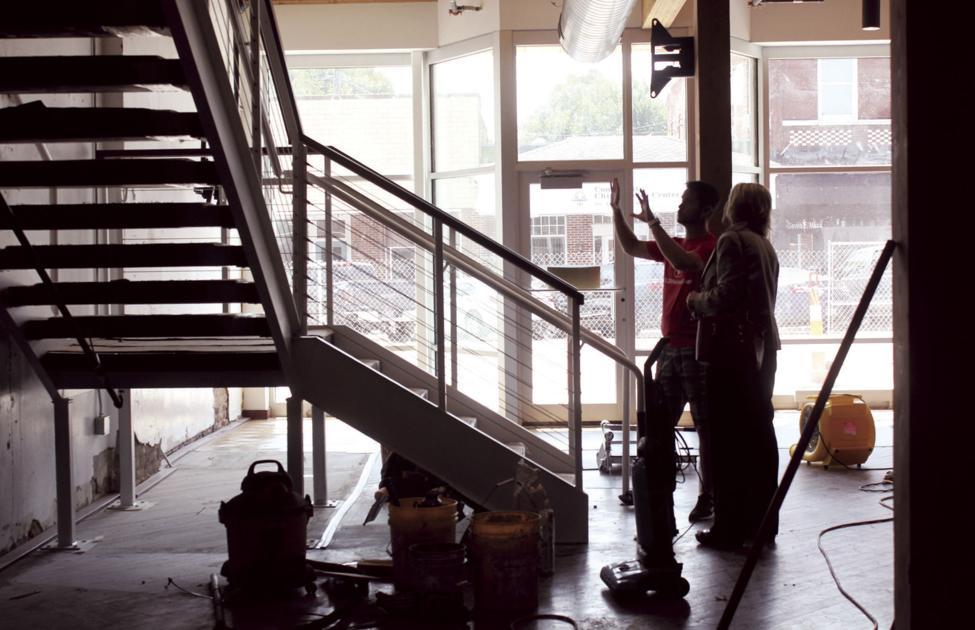 Some things haven't changed as Nate Welch, executive director of the Vermillion Chamber and Development Company (VCDC) gives tours of the building at 2 E. Main Street in the heart of the community's downtown.
There are still construction workers scurrying throughout the building creating a scene not much different from when Welch first showed the Vermillion City Council the early stages of the building's renovation back in December 2017.
Countless things are different today, however, as Welch gives interested parties, including the city council and University of South Dakota President Sheila Gestring a look at the work that has been completed.
Back in December, Welch could only describe his vision for the interior space as he pointed to walls that had been stripped to the studs and bare wood where ceilings once were.
Now, while leading visitors through the building, he can show how those visions have been turned to reality, all while dodging those ever present construction workers.
Joining the various contractors who are putting the finishing touches on walls and floors and other aspects of both the building's interior and exterior are VCDC staff members. Last week, they began moving into the newly constructed offices on the second floor of McVicker Plaza.
They are in the process of coming home, for good, after working from various locations in Vermillion for much of this year.
Back on the first floor, while standing near the main entrance of the building last week, Welch still calls on visitors to use a bit of imagination to picture what will be the finished product as the renovation work continues.
"Our goal will be that everyone will be entering right through that middle door because the vision of this space was not only a very open space and usable space and connected space – it's also a space that we wanted to pop with pride and pop with accessibility," he said.
When the work is completed, people who walk through the front door of McVicker Plaza will be greeted by a receptionist and a new visitor's center. If they stroll to their left, to the west side of the first floor, they will enter Charlie's, the University of South Dakota's retail store that sells the school's clothing and other products.
Walk to your left, and you'll enter perhaps one of the most cutting-edge areas of the building – what best can be described as a collaborative co-working space.
"It's going to allow us the ability for people to come in – whether they are professionals during the day, whether they are entrepreneurs starting up their own businesses, or students who just want to come and study in a different kind of setting – we're going to have an area here for them to focus on their work," he said.
The space will serve as more than a workplace, Welch said. It will be a place where people from all walks of life will cross paths.
"Ultimately, it's a place with intersections," he said, describing the relationship-building goal of the co-working space. "You try to create these constant intersections day-to-day, and then you introduce a new intersection and you can connect people. That space is going to allow us to be able to do that.
"What's nice then is our team is going to be able to get know those who are here on a casual level as they use this space," he said, "and we'll get to know what's going on, what they're working on and how we can help serve them."
The VCDC staff will have an opportunity, Welch said, to answer questions and help people who are working on a project and trying to develop their ideas into something sustainable in the community.
"We'll be able to say to them, 'come on upstairs, have us help you, have us reach out to our resources.' So this space is designed to not only have those landing spots for community members," he said. "It also has the ability to be reconfigured for different things."
For example, the UpNext Vermillion Coffee Hour, held each Wednesday morning in the Edith B. Siegrist Vermillion Public Library, will be moving to McVicker Plaza.
The community space in the building features technology such as a sound system, video screens and internet connectivity that makes it ideal for both a place to work and a spot to hold meetings and community gatherings.
"It gives this real cool energy feel, we'll have high- and low-top tables, and with the sound system, a person giving a presentation will be able to be easily heard by someone sitting at the back of the room," Welch said. "People will be able to sit down or just stand or mingle and be able to hear the presentation, and that will allow us to execute the purpose of the UpNext Coffee Hour which is to engage the community with civic, entrepreneurial and civic discussions."
The building at 2 E. Main has stood prominently in Vermillion's downtown for over 130 years. In the early 1970s, the structure was the home of Modern Electric Company, a business that sold electronics and appliances. In the 1990s, it housed Maurice's, a women's apparel store. The building was purchased by Phyllis Packard and her son, Aaron Packard in the spring of 2004. They were its last owners before the building was purchased by the VCDC last year.
Whoever owned the building nearly a century ago made a big change to its front appearance. In 1921, the front façade of what is now known as McVicker Plaza was altered. The VCDC has strived to bring the building back to how it originally appeared, according to some of the oldest photos found of the structure.
The new design elements that resemble the original design include indented entrances near the front's west and east sides with a main entrance in the center. The front windows, which for years looked like traditional department store windows with a display space, have been replaced with new windows that go from floor to ceiling.
The second floor windows on the building's west side also have been replaced with new frames and glass that resemble the structure's original, larger vertical windows, each with an arched top. The VCDC staff offices, located along that side of the building, are flooded with natural light thanks to the return to traditional design.
A grand opening and ribbon cutting for McVicker Plaza is scheduled for Friday, Sept. 21. Plans are underway for concurrent public workshops in economic development, pilot programs for the collaborative co-working space and more. Further details on these events will be released in coming weeks via the media and at www.LiveVermillion.com.
Restoring the building to its original appearance is important, Welch said, as the Vermillion community continues to value and preserve its history. He noted that a few years from now, the VCDC will be celebrating its 100th anniversary.
"History has meaning. It means something to the community and to downtown," Welch said. "If you can not only keep history, but also restore it, you're tapping into a great opportunity. So, we as an organization saw the opportunity to appreciate this history."
Creating a new work and meeting place in a building that originally contained many beautiful features was another reason for restoring McVicker Plaza to its original design.
"One of our favorite things in this entire process is the replacing of those windows from the old square-shaped ones to what is in place now," Welch said. …"This building gave us enough to work with so that we truly could pay tribute to that history and also increase that esthetic of downtown. That was the reason we were committed to keeping this building, even if we had to replace some of those bones of it.
"We still have that soul of the building … and what's great is that there remains a transition throughout from the original part to a modernized part and now an updated part," he said.
Source: https://www.plaintalk.net/local_news/article_163839c2-9c3e-11e8-9b05-1bbdc7c9a61d.html